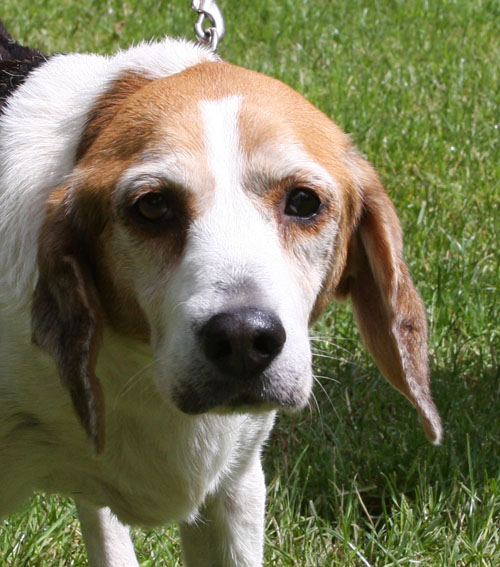 Her shelter name was "Bugs Bunny" and she came to us as a horrible mess of infection.  Her name stuck, but shortened to Bugs.  The infection?  Long cleared and her only remaining therapy is to keep her on grain free food.  Easy enough.  She arrived into our care 438 days ago and has been waiting and waiting and waiting for her forever family to come.  Nobody has.  In fact, in all this time only one person even showed an interest in her but a beagle didn't work for their lifestyle so she never got to go home.  Maybe it's the scars on her ears that are wrinkly from years of massive infection.  Maybe it's because she thinks she should be the princess of your home…as she should.  Maybe it's because YOU simply haven't found her yet.    Sadly, she has earned a new title this month, "Longest foster in CBR history."   But please don't tell her that because she thinks it's because she's so special that it takes scouring the planet to find her that perfect home.  We agree.
Bugs is a real character who wags that tail of hers as if she knows you.  Sure, her lifetime of neglect may still show through if you really look for it, but if you look into her eyes you will see her soul…if you dare.  Once you do, she'll be yours…guaranteed.  She is a happy go lucky girl who is ready to move in with you and show you what a beagle is all about.
Beagle lovers, Bugs needs you today.  She needs to find her perfect fairy tale home and we're asking each one of you to share this post with the hopes that her journey will finally end up in someone's living room in a big cushy bed.  Can you help us find Bugs a home before her hopes diminish?  To view her entire adoption profile, please click here.
Arooooo,
Beagle Slave