When Hearts Break – For You, Remi
Remington, aka Remi – -such a gorgeous tri-colored puppy.  I can almost see his spark as he began exploring the world just 18 months ago.  I imagine him as bouncy as they come.  Full of life and into everything.  A young boy who was first among his crew to belt out a great big Arooo!  Playful, adorable  – -everything anyone could want in a Beagle.  We have his vet records and in August, 2017, he was "normal weight" and everything else was unremarkable.  Something went horribly wrong with Remi in the following weeks.  He dropped down to a mere 15 lbs and his owners claimed they could no longer afford him.  Sigh.
We received a plea from a Lab Rescue in North Carolina 3 days ago and jumped into action.  The subject line was
NC Carolina Beagle Needs Rescue – HE'S DYING!  We are in the Pacific Northwest and he was all the way over in North Carolina.  I was able to get in touch with the director of the lab rescue whose funds were slim so they were hoping someone could help.  We happen to have the most wonderful volunteer in North Carolina – Carrie.  She is an animal's best friend! She know what to do, how to do it, follows directions – – and her heart.  Carrie is wise for her years and our history goes back years from when she was a very young volunteer at a humane society in Georgia. (Another wonderful story for another day).  Remi had been admitted to a hospital and sat there for 3 days with virtually no or minimal care.  He had been vomiting for days and shrinking in size by the minute.  I reached Carrie and she sprung into action  – – she drove 50 miles to go get Remi. She called me with the dreaded report.  He was down to 12 lbs.  Yes, just a dozen pounds.  He was a skeleton with a tri-colored pelt resting over his bones.  He wanted to eat, but kept vomiting up his food.  He was emaciated, dehydrated and who knows what else.  We had Carrie take him to the vet hospital where she works  – – and one we trust.  It's a 24 hours ER and specialty hospital.  The internist said his prognosis is very grim, but we could try a couple of things to help get his health back.  His bloodwork revealed a story that we didn't want to hear.  He had virtually no white blood cells and his platelets were very low.  He was barely holding on but we will always try.  We must.  He was worth it.  A few hours later, the vomiting had not subsided and he couldn't even keep meds down.  He was simply too advanced in his tailspin to help.  Carrie held him as he took his last beagle breath  – – – and for those few hours, he knew love as he should have.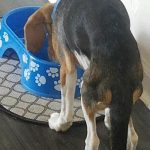 These situations are hard.  They hurt.  They really, really suck.  If only Remi knew how many of us were rallying around him and doing everything in our power to help him.  After we pause to catch our breath, we carry on.  We won't forget little Remi, even though we only got to have him for 1 day.  Because of cases like his, we keep going.  We keep trying to help, even if it's just for a few hours.
Rescue volunteers are the best!
We hope you are racing wildly wherever you are, Remi!
~Beagleslave