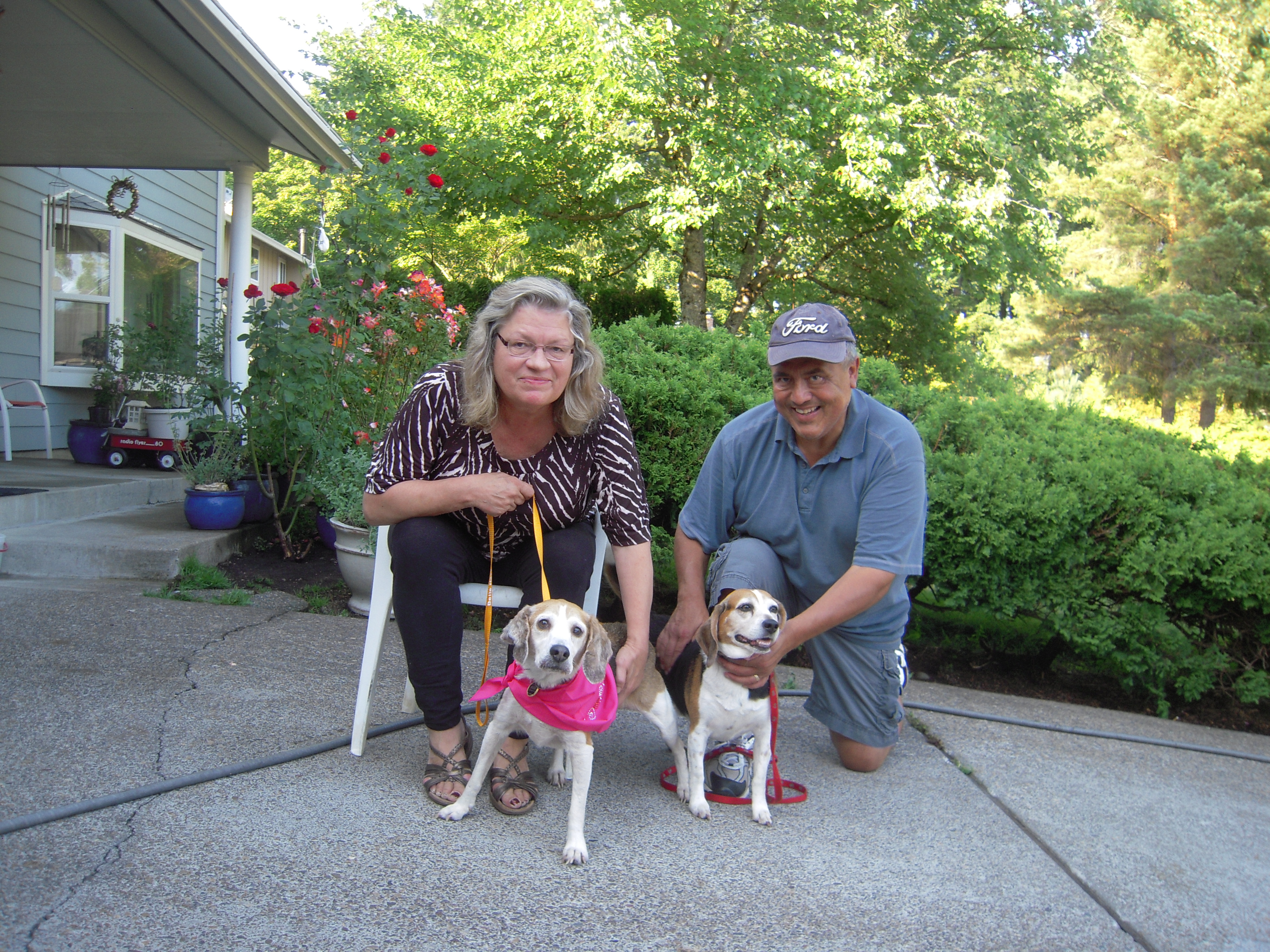 Adoption Day for Bugs!
A gigantic congratulations is in order for BUGS!  Her adoption day finally came after waiting 522 days!!  She is happily living with Joe and Sara G. of Hillsboro, OR and she even has a beagle brother named Timmy!
Her Story:
Bugs came to us from a shelter in Washington.  Her condition was far beyond treating in the shelter environment so they reached out to us for help. Bugs is in pretty bad shape from years of neglect. For starters, she was miserable with the current state of her skin. Her ears are just about swollen closed and the flaps are extremely scarred from chronic, severe, infection. Her skin was hot to the touch. Her eyes look infected and she had leathery areas on her body. This girl needed a specialist to help get relief and for her to find her smile again.  For many months she wouldn't even look up as if she had been told all too often that she was ugly.  But you should see her now!
After months of treatment, good food, and some TLC, Bugs is ready for adoption!  There is hardly a dog who wags her tail more than this girl.  She is happy, friendly, and ready for someone to finally make her a part of their family.  She would do best being the only dog so she could be the center of your universe.   She does get along with other dogs though!
Age: 8 (est.)
Spayed
Microchipped
Fully vaccinated
Heartworm tested:  Neg
From:  Washington shelter
Current location:  Oregon
Alpha female
Playful
Active but not hyper
Tail always in motion
Good with other dogs, but dominant
Known health issues:
Food allergies – must be on grain free diet
[images_mini_gallery width="299″ height="200″] http://www.cascaderescue.org/wp-content/uploads/2012/02/IMG_1364.jpg[/images_mini_gallery]
[images_mini_gallery width="299″ height="200″]http://www.cascaderescue.org/wp-content/uploads/2012/02/IMG_1385.jpg[/images_mini_gallery]