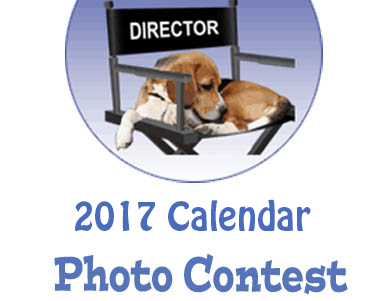 2017 Calendar Photo Contest!
CHANGE NOTICE!!!
We are moving the entire calendar contest to a brand new platform.  Standby – – it won't be ready to roll out until the week of 9/19/16.  There are lots of new features!  Voting begins the moment you submit your entry so you'll have more time to have your friends rack up the votes for your Beagle!   We will put a link right here on this page when it's ready!
Thank you for your understanding!
Be among the first to submit a photo of your favorite beagle for our calendar contest!  Our calendars are known for for its great photos, excellent quality.   Here's a chance to have a little fun and help beagles at the same time! It's easy – – you enter your beagle's photo in the contest. After entries close, we move to the voting round. For $1.00/vote, you and all your friends (and family who owes you money!) can vote for your photo. The first place winner gets to be on the cover! The next 12 winners get to be the monthly main photo. You can also purchase notations for specific dates (for example a birthday, memorial, adoption day)  It's easy. Send a photo – save a beagle.  This isn't just any calendar — this is professionally designed and printed, folks.  It's worth every penny!  We only print 200 a limited quantity of them and we always run out, so if you want one, be sure to pre-order NOW!! enter as many photos as you want for a fee of $5.00/entry, however our photo committee will select only one from each household to move on to the voting round (this is a new contest rule).  Please send all photos in high resolution – – do not crop them.  Our designers will adjust the winning photos if needed.
ALL PRE-ORDERS ARE AT A REDUCED PRICE OF $15.00+ SHIPPING UNTIL 9/30.  AFTER THAT THE PRICE INCREASES TO $20 + SHIPPING. Order today!  This is one of our greatest fundraisers and every dollar goes directly to help beagles in our rescue program. Eighty percent of our funds to go veterinary care for these dogs. It is for them that we push so hard to keep going.  It is for them that we constantly ask you for help.  It is for them that you do.  It is for them that we thank you.