Hailey's Story...
Hailey in her foster home in 2007...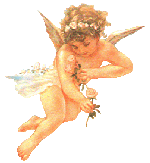 Calling all Guardian Angels
The definition of Guardian Angel is someone sent to guide and protect another living being.

Hailey came to our rescue in 2007 when she was about a year old, and was adopted to a loving family. In mid-May 2010 Hailey suffered a debilitating injury (or disc disease) of unknown nature to her spine and requires extensive medical care to help her. She has lost control of her bladder and cannot walk, but this could be reversed. As we write this, she is spending the weekend with the highly capable, renown veterinarians at Red Bank Veterinary Hospital. To help her family we have promised to do what many rescues would not - we are not only paying for her expert consult and her 4 day intensive medical boarding, but we also are paying for her MRI which will be conducted on Tuesday, June 1, 2010. We may also have a surgical option to deal with to hopefully get this girl back to what she was just a short time ago.

We know our bills will be more than $5,000 and while we don't usually explicitly solicit donations for a special needs dog, this 4 year old girl deserves a second chance which we are going to
try to give her. She has the potential for a long, wonderful life ahead of her - if we can help.

If you can donate a small amount to help with her care, please do. Her family is unable
to pay the entire amount on their own. We are trying our best, but our resources are limited, so we hope we can also count on your generosity to help us help Hailey.

On 5/31, Hailey was verbally relinquished to CBR-East by her family, and our search for a foster home began! Within 3 hours of posting for help, we had 4 offers to foster her post-surgery and we reclaimed her. All care and responsibility for her fell to CBR-East, so we continue to fundraise, gave the go ahead for the MRI, and if she was a good surgical candidate, then to do the surgery. (This was only possible thanks to the outpouring of love and donations from all of you!)



UPDATE 6/1:

Hailey had her MRI done this morning and was taken straight to surgery! By the afternoon, we had the report that she did very well! Hailey had a disc at L2-3 pressing on her spinal cord causing pain and paralysis of her lower limbs. She has, however, maintained a pain response in her feet, which was a good sign. The neurosurgeon (Dr. Eric Glass of Red Bank Veterinary Hospital) performed surgery to remove the disc material. This was successful, and Hailey will be monitored closely at the hospital, but right now, she has a good prognosis! She continues to maintain the pain response in her feet, so we are optimistic about her future!



UPDATE 6/2:

Hailey continues to do REALLY well. The RBVH vets indicate that she is urinating on her own so she will not need any bladder expressing post-surgery!! How cool is that? Her UTI is clearing up but hanging on a bit longer than we'd like so we'll continue with her antibiotics. She ate breakfast today, her temperature is down, and we were concerned about possible separation anxiety but they tell us that she has not shredded a blanket, cried for attention or chewed anything out of "stress" reflex and she's resting very comfortably in her crate lovin the attention she's getting. We'll discuss therapy later in the week

is a good day for Hailey so far! We are still trying to reach our goal to make sure we can provide all that Hailey needs, so we will be continuing our fundraising efforts. THANK YOU!

but today is a good day for Hailey so far! We are still trying to reach our fundraising goal so that we can provide all of her care - current and post-op, so please do not give up on her! Thank you to everyone for their support!

UPDATE 6/3:

Hailey is ready to be RELEASED! After speaking with the Red Bank Vets, they're very happy with her progress. :) Hailey's UTI is clearing up nicely and she'll go home on oral antibiotics.

She can NOT walk yet, of course,

BUT the vets state she has some movement, although slight, in her rear quarters so she is already NOT a candidate for a "speedy cart"!! We're aiming for walking, and not turning back!

It will take approx 2 weeks to 2 months to get her back to where she should be, but we'll give her as long as she needs! Hailey will be leash walked with the help of a sling for her back end (

http://handicappedpets.com/www/index.php/help-pets-walk/help-lift-dogs.html

) until she can do so on her own. She's eating wonderfully and we are looking forward to watching this little girl heal a little more every day.



UPDATE 6/4:

Guess who is back at CBR-East and ready to make an amazing recovery?



Click here to see how happy Hailey was at the hospital when we came to pick her up!


THANK YOU DR. GLASS OF RED BANK VETERINARY HOSPITAL FOR SAVING MY LIFE!

I'M IN HANDICAPPED PARKING TODAY, BUT NOT FOR LONG!

A SLING IS NEEDED TO HELP LIFT ME SO THAT I CAN GO OUTSIDE.
I HAVE A LONG WAY TO GO, BUT I AM HAPPY TO BE ALIVE AND ON MY WAY TO RECOVERY!

MY SURGERY COSTS WERE OVER $5,000, AND I STILL NEED ABOUT $2,000 MORE IN SUPPLIES AND THERAPY. PLEASE DON'T FORGET ABOUT ME! SPREAD THE WORD TO ANYONE WHO MAY BE ABLE TO CONTRIBUTE TO "HAILEY'S FUND!"


UPDATE 6/5: I GET GENTLE MASSAGE IN MY FOSTER HOME.



UPDATE 6/7:

NOT AN ACTION MOVIE YET, BUT YOU CAN SEE HOW SWEET I AM AND HOW I AM MANAGING MY RECOVERY.




UPDATE 6/14:

Well, we didn't really expect this news...Hailey had her first post-surgery follow-up appointment with Dr. Glass today. Her staples were removed, and Dr. Glass assessed her current condition and recovery. Know what it was? That Hailey could not possibly be doing any better. She WILL walk again - of that he was confident. He is estimating to give her at least another 4 weeks, but he is not even recommending rehab for her at this time given the amazing progress she has already made! (She is already trying to stand, and on occasion can do so when someone enters the room.) Our vets tell us it is pretty remarkable to have this kind of recovery when the time between injury and surgery is more than 48 hours. While we certainly hoped for this kind of prognosis, to actually hear it post-surgery feels great. Her medications are being weaned this week, the use of a Rough Rider harness is optional, and her current treatment is all that she needs...crate rest, gentle massage and gentle ROM exercises - all being done in her foster home. She is still working on bladder control (and the meds she is on complicates this), but she'll get there. Better yet, she's even lost 2 pounds (and still needs to lose about 10 more, but that's pretty good so far!) We are monitoring her progress of course, and should she not make the progress we expect, or if any concerns arise, we will check back in with Dr. Glass and look into rehab for her. Based on today's visit, however, Dr. Glass was so confident about her recovery that he did not even schedule another follow up. "She'll be walking....."

CHILLING OUT IN MY FOSTER HOME...ON A SWING WITH MY FOSTER DAD.
LIFE IS GOOD.
THANK YOU EVERYONE FOR HELPING ME GET MY SURGERY.
UPDATE 6/15:
2 WEEKS POST-OP. THIS IS NOW A SEMI-ACTION MOVIE OF HAILEY'S RECOVERY.
UPDATE 6/27:
26 DAYS POST-OP. WE THNK THIS NOW QUALIFIES FOR AN ACTION MOVIE. NOTHING IS HOLDING HAILEY BACK! HER FOSTER PARENTS CONTINUE TO DO AN AMAZING JOB WITH HER, AND AFTER SEEING THIS, WE HOPE IT IS ENOUGH THANKS TO THE NEARLY 100 INDIVIDUAL DONORS WHO HELPED MAKE HAILEY'S SURGERY POSSIBLE.

PART 2 OF THE 6/27 VIDEO IS HERE:
WE COULD NOT HAVE HOPED FOR A BETTER OUTCOME.


Hailey's foster parents still use the sling every day outside with Hailey. She only has 1-2 minutes of "free walking" outside, yet "free walks" in her confined play area in the house. If things were up to Hailey, she'd be running off-leash somewhere chasing small animals, but she had an extremely delicate surgery, and in some ways, we need to slow her down with her recovery!

She loves to kiss and be massaged. :)
UPDATE 7/21:
Hailey continues to show signs of progress! All of her medications are complete. She has interacted with her canine foster brothers and sisters...no running or playing, just meet and greet. She is calm around other dogs, and seems like she wants to be with humans more then dogs. She does still have accidents in her area randomly. Hailey only barks when we leave her to rest. She loves rolling on her back in morning and afternoon when walking in the grass. At night she enjoys freezing, listening and looking. Hailey walks more and more without the sling. We still use it for support to ensure she heals completely!
UPDATE 7/26:
Hailey was taken to the veterinarian today for her heartworm test, and to be brought up to date on all of her vaccinations. She was a trooper and did great! She is heartworm negative. :)Provided a new adopter has the means to care for her, we will begin a search for an adopter for her! Hailey will still need an adopter to help with her rehabilitation, to be VIGILANT with keeping her leash walked, off furniture, and to monitor her for future problems with IVDD. With proper care, Hailey should make a complete recovery. This was her as she WALKED into the vet's office today: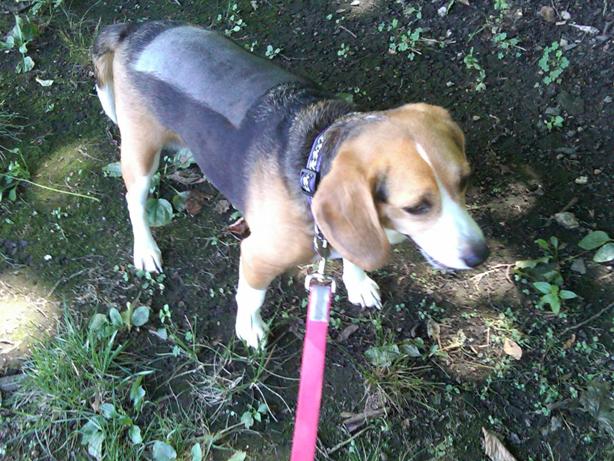 INTERESTED IN ADOPTING HAILEY?
PLEASE REVIEW OUR
ADOPTION GUIDELINES
AND COMPLETE OUR ONLINE APPLICATION!

UPDATE 9/1:
Per Hailey's foster home: Hailey continues her remarkable recovery. She is now climbing up and down steps alone. We continue to closely monitor her. She enjoys playing with tennis balls, and other dogs. She and Max play every morning. In the evening she plays with one of our Guests (Trooper) another Beagle. She enjoys all other dogs / cats. She enjoys sleeping in her foster mom's lap while watching TV. Hailey is housetrained, with minimal accidents. Hailey goes into her crate when she is tired. We close / lock crate at night and when unattended. She is eating well, remains fit and active. Hailey has no clue she had major life threatening surgery. She is absolutely a lover.


"ZIP'S GIFT" COMPLETED/MET OUR FUNDRAISING GOAL FOR HAILEY'S CARE.
We ended the ChipIn Fundraiser to show 100%!!
THANK YOU EVERYONE FOR YOUR SUPPORT!!

To report problems with this site, please contact the webmaster.