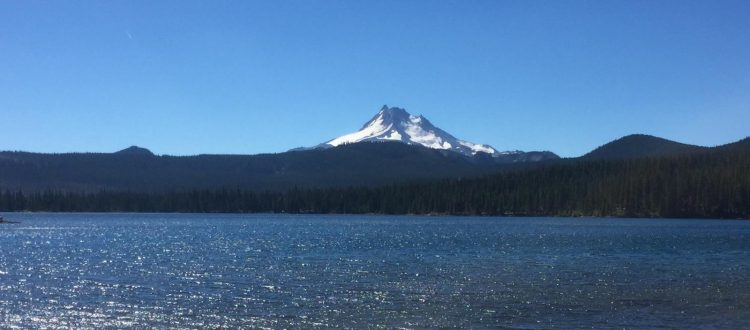 350 Miles In – – -100 left!
With Mt. Hood in sight now, we're in amazement by Team 450's accomplishment!  They have now trekked 350 miles – -and hardly a complaint among them!  We didn't hear about blisters, lack of food, having to pitch a tent every single day and then pack it all back up again in the morning.  None of that  –just stories of joy and enjoyment of the beautiful terrain.  Lisa's pink shoes managed to carry her the whole way.  We provided her with postcards with notes of encouragement from rescued Beagles to encourage them.  But you know what really keeps them psyched about continuing?  The thought that their efforts could possibly reach our fundraising goal of $20K!  As of tonight, we're only $575 away!  This is such a fantastic gift to CBR and ultimately for Beagles in need. Click HERE to DONATE
Pictured below are Lisa (left) and Jenny (right) along with trail visitors Emmy (Beagle) and Wisdom (Golden).  As you can see they are all smiles, even though they have hiked 350 L O N G miles!