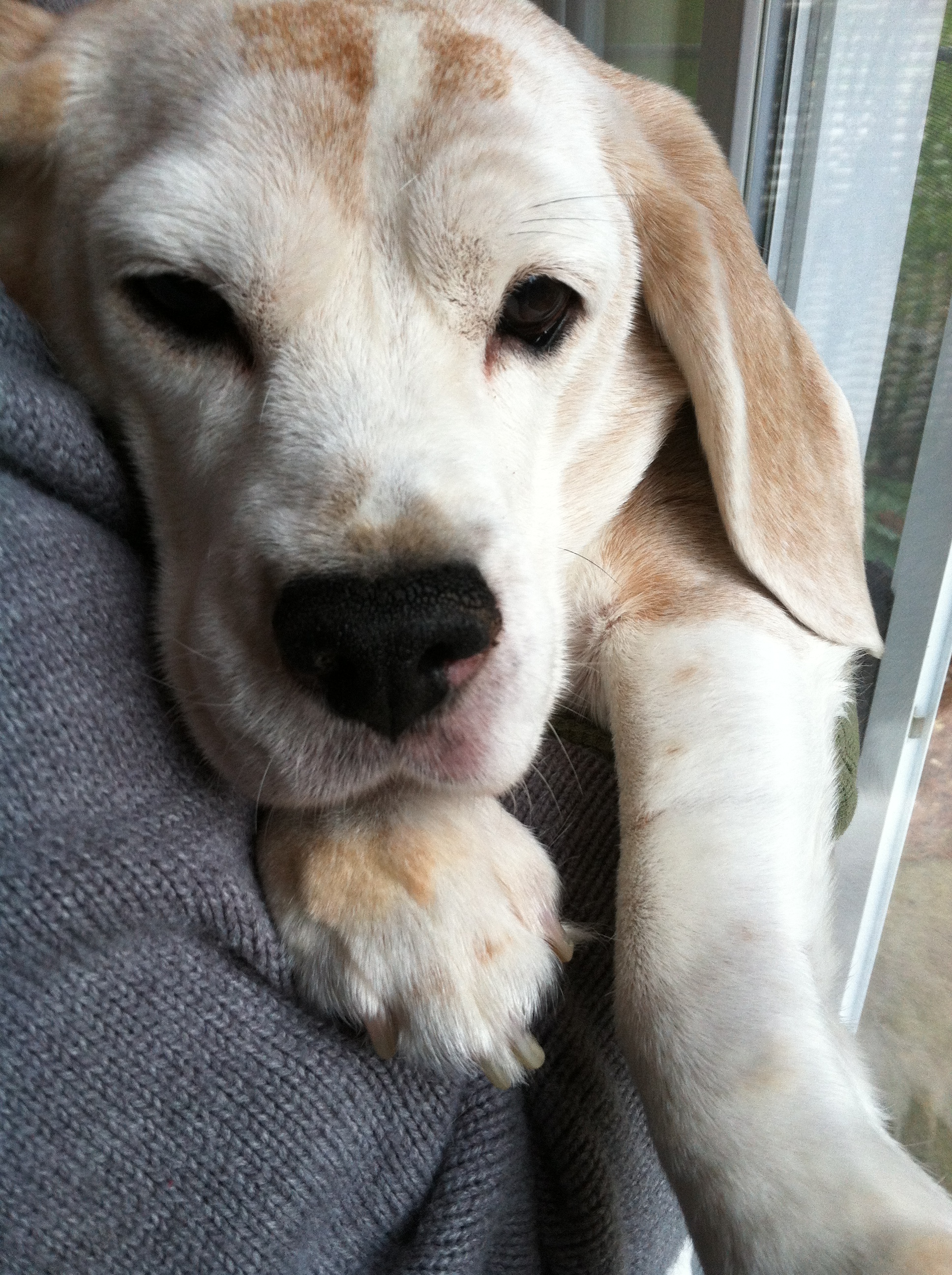 Desi, such a sweet senior girl of almost 11 years, has been living in pain for a while now.  When we opened her rotten smelling mouth and discovered bone protruding through her gums, we called our friend, Dr. Jean Battig's office for help.  Jean is the very vet who helped "River" run through it again.  He had endured many oral surgeries to repair holes that went from his mouth up through to his nose….poor guy.  Jean was out of town and referred us to another angel vet – Dr. Kevin Stepaniuk, who got Desi on pain meds and antibiotics right then and there.  He said she needed surgery immediately…or other decisions should be made and ol' Desi still has a spring in her step and is certainly not ready to meet her maker. We scheduled the surgery.  These types of things comes with a cost…a hefty one.  She needed bloodwork, of course, a CT scan to determine the exact origin of the bone, and a long surgery by someone with the skill that only Jean or Kevin would have.  One thing we are blessed with at CBR is access to some of the best veterinarians on the planet!  One worry is that the biopsies of the bone and surrounding necrotic tissue would come back malignant…we're still waiting for good news there.  Cost of surgery: $3,000.  Desi:  Priceless.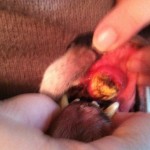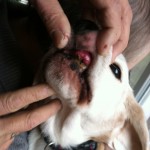 $3,000 needed – $1,500 raised as of Dec 11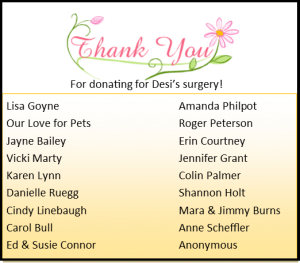 ——————————
DESI UPDATES:
Desi is recovering from her surgery and we have some wonderful news and some bad news too.  It's never easy, is it?   The bone mass that was painfully protruding from her mouth was sent off to pathology and came back benign!  The bone in her mouth was removed and she got a Beverly Hills-style wound repair!  You should see how beautifully it turned out!  Oh wait..you CAN see.  Check out photos below!  This girl is eating and drinking just fine and is now off her pain meds too!  She's livin' life…without a bone sticking out of her mouth!  Hooray for Desi!
Now for the bad news.  They found a stick wedged way in the back of her mouth between the back teeth (silly beagle!).  That in and of itself wasn't the problem.  They also found a strange looking black mass near that area so they sent it off for biopsy too.  Sadly, it came back as a melanoma (cancer) and due to its location, it will be very hard to help her.  A consult is set up to go over options on Tuesday, Dec. 16, so watch for updates!
Keeping hopeful,
~Beagleslave