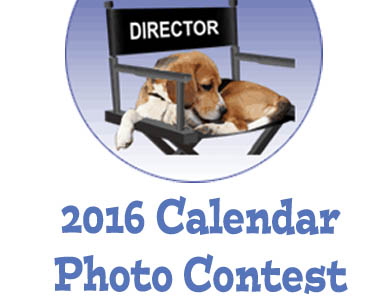 2016 Calendar Photo Contest!
It wouldn't be a nonprofit organization if we didn't have fundraisers, right?! Here's a chance to have a little fun and help beagles at the same time! It's easy – – you enter your beagle's photo in the contest. After entries close, we move to the voting round. For $1.00/vote, you and all your friends (and family who owes you money!) can vote for your photo. The first place winner gets to be on the cover! The next 12 winners get to be the monthly main photo. You can also purchase notations for specific dates and buy a guaranteed spot for a smaller photo of your beagle! It's easy. Send a photo – save a beagle.  This isn't just any calendar — this is professionally designed and printed, folks.  It's worth every penny!  We only print 200 of them and we always run out, so if you want one, be sure to pre-order.
Photo entries are OPEN until 10/31/15 – – – then the voting round begins.
This is one of our greatest fundraisers and every dollar goes directly to help beagles in our rescue program. Eighty percent of our funds to go veterinary care for these dogs. It is for them that we push so hard to keep going.  It is for them that we constantly ask you for help.  It is for them that you do.  It is for them that we thank you.
[one_third] [images_mini_gallery width="299″ height="200″]
http://www.cascaderescue.org/wp-content/uploads/2014/09/shiloh-2.jpg
[/images_mini_gallery][/one_third]
[one_third][images_mini_gallery width="299″ height="200″]
http://www.cascaderescue.org/wp-content/uploads/2014/02/After-a-few-months-of-foster-care-e1392692749291.jpg
[/images_mini_gallery] [/one_third]
[one_third_last] [images_mini_gallery width="299″ height="200″]
http://www.cascaderescue.org/wp-content/uploads/2014/09/shiloh.jpg
[/images_mini_gallery] [/one_third_last]