All About


Your contributions help pay for Gunnar's medical expenses
to save his leg from amputation!
Gunnar is a gorgeous 6 month old male puppy who, if not found by a passer-by, would have probably died. Nobody knows what happened to him that fateful night. When he was found, he was dropped off at a county shelter that did not have the resources to provide his medical care. He waited a whole month before CBR found him patiently waiting for someone to take over his care. He had received no pain medication. No X-rays. We were told by the shelter staff that his leg would probably need to be amputated. Our vets aren't sure about that yet and we're doing everything possible to repair his leg.

We picked him up today, October 9th, and took him directly to our vet, "Dr. A". She x-rayed his leg and reported the good news that all the bones are in tact. Most likely, this injury is due to him getting stuck in an animal trap.


Painful and infected, Gunnar is unable to use his leg.


The pads of his foot are gashed,
deeply cut and infected.


click photo to enlarge

Little Gunnar was so brave while our vet cleaned and bandaged his wounds. Only one small yelp. This foot is severely infected and swollen to about 4X the normal size, yet this boy has the best attitude. He is kissy, sweet, quiet and seems to know he is being helped. It is true that we may be faced with the ultimate decision to amputate his leg, but all efforts will be made to repair him first. He will need a neurological consult to determine if nerves were severed. His treatment, while expensive, is not an option. How could we simply walk away from this sweet boy who sat waiting an entire month, hoping that someday he could be helped. That day was today.


Too much pain to bear weight on his leg
click photo to enlarge


click photo to enlarge


click photo to enlarge


Susan O. smooches Gunnar after a long day of transport.

Oct. 11: Hi everyone, Gunnar here! Wow..my life sure has changed since the other day when I came into the CBR family. Today I got to see Dr. Anderson again. She speaks very softly and kindly to me and gives me treats. She had to change my bandages today but she was very gentle and said I was a brave boy. When she got the bandage off she said my wounds were beginning to heal and the swelling looked better! But, she did look concerned and even brought in another nice vet to take a look. They said something about nerve damage and severed tendons and ligaments and they just looked like they needed a kiss...so I reach up and gave one to each of them. It made them smile. I go back on Monday morning! Stay tuned!
Oct. 15: Today I got to go back and visit Dr. Anderson. This time she told me that I'd be staying at the hospital with her all day. Wow, does that mean I get cookies all day?? Later I found out that in order to really clean my leg, she would have to give me a shot so I would go to dreamland. She told my foster mom, Jane, that they really cleaned my wounds real good and that they looked like they were healing a little! She said I have a long way to go, but maybe...just maybe I can keep my leg. She put a splint on my leg so that it would force me to hold it in the right position. Oh, and she also had to remove one toe that had broken and was hanging. I got a nice green bandage this time~! My next appointment is Thursday, so come back and read my report!


See my new splint?


Still tired after my big day!

Oct. 18: I just got back from the vet...visiting my new friend, "Dr. A.". I gave her my usual kisses, then she gently held me while I fell asleep so she could to surgery on me. She removed all my bandages again and was very happy that my wounds are still healing nicely! She said my foot was almost back to its normal size now. The toe that she removed last time is healing and she says it's good that I have feeling on the rest of my toes. My ligaments are beginning to stretch back into place and I remember Dr. A. telling my foster mom that she just might be able to save my leg with a lot of TLC and some physical therapy! She scrubbed my leg all up and put a new soft cast on my leg. I'm going to try really hard to start using it. I have a long way to go, but am making big progress. If it weren't for my SPONSORS I probably couldn't get this kind of care...so a big AROOO TO ALL of you who are helping me! Oh...and guess what? I also got "tutored" today...or something like that! It's so when I grow up I won't be tempted to make any new babies! Afterall, there are so many who need help already. I also got my official CBR microchip! Now I get to go back to my foster mom, Jane and recover. Check back Monday because I get to go see Dr. A. again!

Oct. 20: Hello everyone! What a big week I've had! I went to see Dr. Anderson again and she said that she wants me to have at least 2 weeks of physical therapy/rehab to see if my tendons, nerves and muscles can start working in my foot. The best part of all was when she took that cast off my leg! I was sooo happy UNTIL she brought out this funny looking satellite dish and put it around my neck! What's up with that?! Oh well.

Oct. 24: Today I got to meet Dr. Shaw at Back on Track Veterinary Rehabilitation Center. The staff all seemed to really like me! I even got to meet "Daniel The Spaniel," the office mascot. It's really cool there. I got treats from everybody and lots of attention. Dr. Shaw paid special attention to my foot and tried all different exercises to try to help me use it. She says my muscles and nerves are not severed so there is hope to save my leg! My foster mom, Jane, has a lot of homework with me! Four times a day she has a list of stuff that we have to do. It's going to be difficult, I know, but I'm going to try real hard so everybody is proud of me. I was fitted wtih my own special "splint" to help me walk too! See my pictures below.


Here I am with my new splint!


I'm pretty tired after a hard work out!
(click picture above to enlarge)


Trying on my new splint for size.


Who knew "rehab" involved toys!!
Nov. 10: Well, I've been in rehab for a couple of weeks now. It sure is hard, but I'm brave and try my best. I'm not sure they can help my leg come back. I will know very soon. If I can't start using it soon, I am going to have a big operation. But don't worry...I'll be OK. I'll learn to walk on 3 legs and I'll still be just as beautiful as I am now!!
December 15: Despite the effort of Dr. Shaw and her rehab team, Gunnar's paw never regained use so he was re-evaluated by Dr. Caulkins. Gunnar's leg just was limp and it was starting to stiffen and contract. He now has no feeling in his toes and can't tell that he's banging it on stairs, rocks, etc. It is getting beat up with sores on it. The decision was made to amputate the leg. We are all very sad and had hoped that we could save it. Surgery is scheduled for December 27th. Keeping paws crossed for him.
December 27: Surgery Day. Wow. It's been such a roller coaster ride waiting, wondering. We delivered sweet little Gunnar to the vet early in the morning. It was to be the 'big case' of the day. Dr. Caulkins was sure it was the right thing to do. Surgery lasted much longer than anticipated and there was more blood lost than planned. But in general, surgery went very well. At 7PM Susan and Denise got the call that it was OK to pick him up. Upon their arrival, Dr. Caulkins explained that when he got inside the leg, he found the radial nerve was destroyed; which means he would have never regained use of the leg no matter what. So this was the right thing to do. Susan and Denise transported Gunnar to NW Vet Specialists/24 Hr hospital where he spent 2 days in ICU. It was a major surgery, including the removal of the scapula on this left side. His future adopters, Cyd and Rochelle, were very worried about him all day and couldn't wait until the morning to go visit him in the hospital. Here are some pictures of that meeting. They were shocked, as were we, that he was led out of ICU on a leash...walking on 3 legs...a real "tripawed" dog! He was skilled and tail was wagging with joy as he saw his future mom.
DAY AFTER SURGERY

Are you my future mom?? COOL!


Hi everyone! I'm doin' just fine!





Thank you, CBR and supporters, for caring about me...and for finding me a wonderful new family!
ADOPTION DAY!!!
1/6/08
January 6, 2008: Stitches/staples are out and a final visit with Dr. Shaw for advice on stretches that will help Gunnar with balance and muscle tone. Pictures below: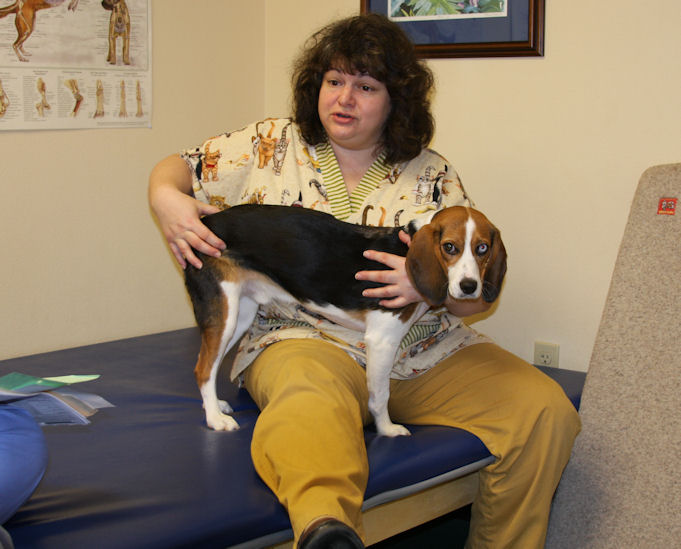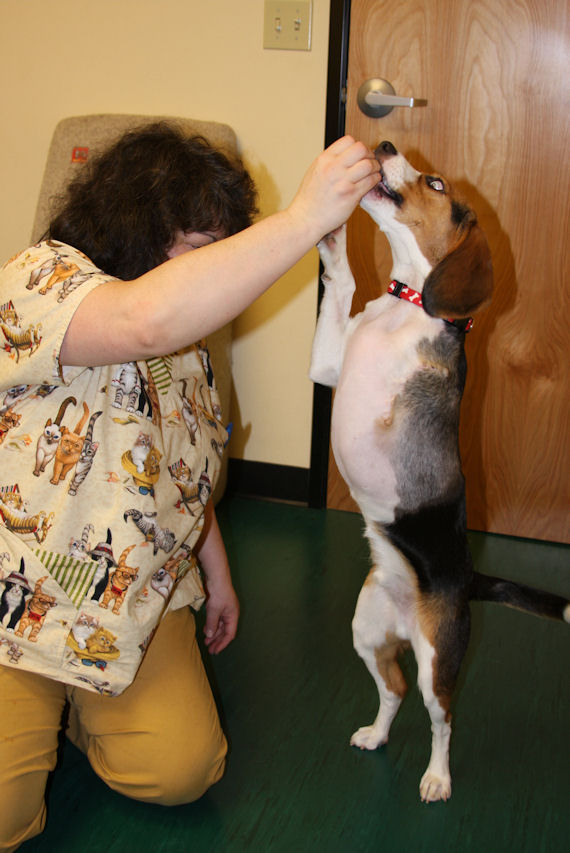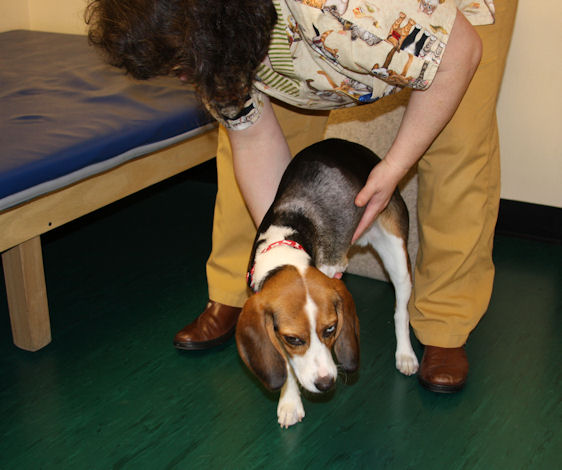 Later this same day was Gunnar's adoption. Michelle, Denise and Jane from CBR were invited to Gunnar's new home to make it official. Little did we know that there was a huge party planned for this special day! The dining table was filled with delicious goodies, human and canine! Two cakes adorned the table; one for Gunnar & his siblings and the other for the human guests. Everything was beautifully decorated in black & white dog paws. All the pups had bandanas for the special occasion. It was a very heartwarming event and the love for this dog from his new family just gushed through every room. THIS is what rescue is about! Please enjoy the pictures of Gunnar's adoption HERE.
To report problems with this site, please contact the webmaster.