Adoption day for Clay!
A big congratulations to Rosanna & Lucas Louie-Juzwiak of Bowie, MD for opening their hearts and home to adopt Clay!
His Story:
They just don't come much cuter than this little guy! His pregnant mother, Eva, was dumped at a shelter where she had a litter of 10 puppies.  All but 3 got adopted and Eva and here 3 remaining boys found themselves at risk due to lack of space at the shelter.  We pulled Eva and her kids to safety, including this blonde beauty!  As of 11/10/12, he is 9 weeks old.
This is Eva, his mother, who is also up for adoption.  This picture shows her in the shelter with her little family.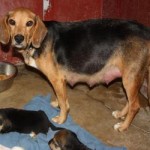 [tabs tab1="Stats" tab2="Behavior" tab3="Health"]
[tab][list style="check"]
Age: 9 weeks, at 11/10/12
Microchipped
Puppy vaccinations in progress
From:  West Virginia shelter
Current location:  DC Metro/CBR Eastern Region
[/list][/tab]
[tab]
[list style="check"]
Playful
Affectionate
On the mellow side
Cuddly
Happy
[/list]
[/tab]
[tab]Known health issues:
[list style="check"]
No known health issues
At the time of adoption he will need to complete his puppy vaccinations
At six months old, he will need his rabies vaccination
At six months old, he will need to be neutered
[/list]
[/tab]
[/tabs]
[one_third] [images_mini_gallery width="299″ height="200″] http://www.cascaderescue.org/wp-content/uploads/2012/11/IMGP4834.jpg[/images_mini_gallery][/one_third]
[one_third][images_mini_gallery width="299″ height="200″] http://www.cascaderescue.org/wp-content/uploads/2012/11/IMGP4801.jpg[/images_mini_gallery] [/one_third]
[one_third_last] [images_mini_gallery width="299″ height="200″]http://www.cascaderescue.org/wp-content/uploads/2012/11/clay41.jpg[/images_mini_gallery] [/one_third_last]