Congratulations to Carrie & her puppy, Alaska for finding their forever family with Pamela & Mike J. of Delanson, NY!
Her Story:
Thank you Matt H. for sponsoring me!  XOXO, Carrie

CARRIE IS READY FOR ADOPTION!  She will be headed west to Portland, Oregon in May.  If you are interested in adopting this sweetie, please apply soon!  She will go fast!  She is sweet, gorgeous, playful, fun…smart!
Her story:
Sweet, gentle Carrie was waiting in a shelter for over a month for someone to want to love her enough to take her home.  When the shelter staff realized she was actually pregnant, they reached out for help and we took her into safety.  At first we had her x-rayed to see if there were visible puppies….there weren't.  The vet said it was too early to see the pups on the xrays so we should give it another 10 days.  When we went back for xrays…wow!  Yes, there were puppies.  Lots of them.  In fact they looked quite large for such a small girl.  This makes her high risk for a c-section and complications.  
We are holding a guessing game contest to help raise money for her care of Carrie and her family.  For $10, you can guess her delivery date and time and keep 25% of the proceeds!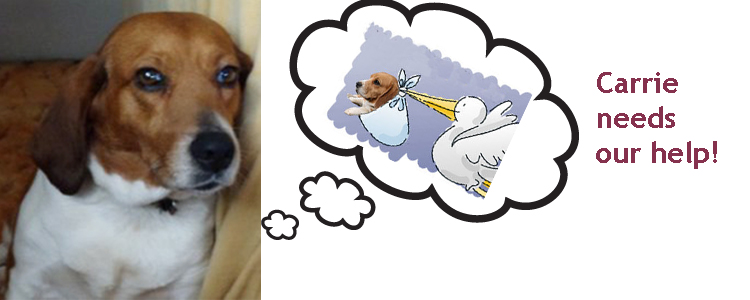 Here's what we know right now:
UPDATE 1/31/14:  Carrie needed a c-section, but delivered 7 large, healthy, squealing puppies!   There are 5 girls and 2 boys.  Will post pictures and updates soon!
UPDATE 1/29/14:  Still waiting! However, Carrie had a vet visit today and it looks like she's starting to dilate.  New xrays were taken and all of the puppies are in the head down position.  She may be in pre-labor!  Standby!
UPDATE 1/28/14:  Still no puppies, but they are really kicking and moving around today!  It won't be long now!!
1.  The puppies are visible on x-ray and they are quite large (we won't give away the number at this time!)
2.  She is high risk for needing a c-section.  These are expensive, folks!
3.  Carrie needs our help!
4.  Updates on her condition and delivery will be right here…and on our facebook page:
 Guess Carrie's Delivery Date/Time: Winner keeps 25%, Carrie keeps 75%
So, we are having a contest where you can help Carrie by guessing her due date and time.  The person who is the closest will receive 25% of the proceeds, and CBR will keep 75% to help Carrie!  There are lots of possibilities, so this could be a fun, win/win situation for all of us!  If there is a tie, the person who guessed first, wins!  Are you game?   Cost:  $10/guess and you can guess as many times as you want!
CONTEST IS OVER…WATCH HERE FOR WINNER!!
Here's a link to the Puppy Pool chart: 
[tabs tab1="Stats" tab2="Behavior" tab3="Health"]
[tab][list style="check"]
Age: 2-3 (est.)
Pregnant

Fully vaccinated

Heartworm tested:  Neg
From:  WV shelter
Current location:  WV (heading to Oregon after the kids are ready!)
[/list][/tab]
[tab]
[list style="check"]
Gentle, mellow, sweet

Good with other dogs

Loves to be petted and cuddled
[/list]
[/tab]
[tab]Known health issues:
[list style="check"]
[/list]
[/tab]
[/tabs]
[one_third] [images_mini_gallery width="299″ height="200″] http://www.cascaderescue.org/wp-content/uploads/2014/01/DSC00851.jpg[/images_mini_gallery][/one_third]
[one_third][images_mini_gallery width="299″ height="200″] http://www.cascaderescue.org/wp-content/uploads/2014/01/DSC00847-1.jpg[/images_mini_gallery] [/one_third]
[one_third_last] [images_mini_gallery width="299″ height="200″]http://www.cascaderescue.org/wp-content/uploads/2014/01/DSC00848.jpg[/images_mini_gallery] [/one_third_last]