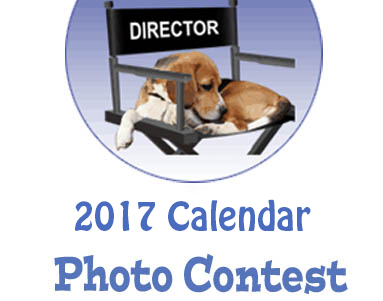 Quick Facts:
Photo Submissions accepted:  09/01/16 thru 09/20/16

Voting round: 11/1/15-11/14/15

All photos must be digital. Hard copies not accepted.

All beagle photos welcome!

$5.00 entry fee per photo

Calendars sell for $20 ea – only 200 will be printed (we always run out!). Pre order now! (see below)
Here's your chance to see your beagle in print on our beautiful 2016 calendar!  These calendars are beautifully printed in full color with spiral binding for easy flipping.  They make great gifts while helping us continue our mission of saving beagles in need.  We thank you for your support!!  SO…..grab your cameras, get your beagles and start snapping!  You may use any photos that are not copyrighted.  They can be current, old, anything!  Just make sure they are GOOD QUALITY or we will be unable to use them.  Select pictures that show the true essence of your beagle.  All proceeds benefit Cascade Beagle Rescue.
What does the winner get?
– First of all you get bragging rights!
– The contest winner's photo will be on the the COVER- OR- your choice to have your photo featured on an alternate month's page.
– One free calendar!
What are "Date Squares" and "Small Photos"?
You can purchase special text to appear on a specific date in the calendar for $5.00.  This can be birthdays, memorial dates, adoption/gotcha dates, just anything!  You purchase this in the calendar store.
Small photos are submitted separate than the main contest and are not voted on (while space lasts!).  For $10 you are guaranteed a spot in the calendar in a location that is up to the discretion of the graphic designer.  These photos are typically about 2″ x 2″ but can vary, depending of orientation of photo.  You purchase this in the calendar store.
How does this work?
To get your beagle into our calendar you may to submit as many photos as you wish ($5.00/entry). After the cutoff date, the voting round starts.  Only ONE entry per family will be selected to move to the voting round.  However, to increase the odds of being selected you may enter several photos.  The more we have to select from, the greater your chances of moving to the voting round..and getting into the calendar!   This is the fun part….during the voting round, all of the selected entries will be shown on our web site where people can vote for your dog.  YES, you may solicit anybody you want to throw votes onto your dog's picture.  The photo with the most votes wins (cover – see above) and the next 12 become the featured months (Jan-Dec)!!  You may purchase a special date (text) or purchase a spot for small photo.  The small photos are inserted into the calendar (not voted on) in a location selected by the graphic designer.
Please read "Photo Specs" and "Important Dates"
By entering a photo in this contest, you certify that the photo holds no copyright or license and you grant rights to Cascade Beagle Rescue to use the photo however it deems fit. This use includes, but is not limited to, web site use, print use.
Anyone can enter!
Photo entries are $5.00/entry and are not refundable
Voting pricing will start at $1.00/5 votes
The photo with the most votes will be on the cover, unless winner elects to have photo featured on a month instead in which case the 2nd place winner will be on the cover.  If the 2nd place winner elects to have photo featured on a month instead, then the CBR will design a cover.
Photos should be at least 800 x 600 px with the highest resolution possible for optimal printing.
The best resolution for printing is 300 dpi
Acceptable formats:  .jpg only!
Make sure the photo is in focus when viewed at 100%
Please do not crop or reduce the image size.  We'll handle that!
Try to take/select photos where the beagle is at least 50% of the photo.
Please make sure photos are in focus!  Speficially, make sure the beagle is in focus!
Send us the full, original file from your camera, whenever possible
NO HUMANS allowed in photos!
All photos will be reviewed by our selection committee for approval.
Entry fees ($5/entry) are non-refundable, even if your photo is not selected.
Make sure the date stamp is turned OFF
Please do not submit photos with glowing eyes, green or red "camera flash" eyes.
We will accept digital photos only submitted electronically (no mailed prints)
Contest photo entry opens OCTOBER 21 – 31, 2015
Voting IS NOVEMBER 1-14.
Calendars will ship:  To be announced, but in time for Christmas!
You may order/reserve your calendar NOW!! Only 200 will be ordered and we usually run out!  
Calendar size:  11″ wide x 17″ high when opened .
Printed in full color
Only 200 will be ordered!  Pre-purchase yours today!
Price:  $20+ shipping
Purchase calendars in our calendar store
Let's do this!
Purchase a spot for a small photo here
Questions?