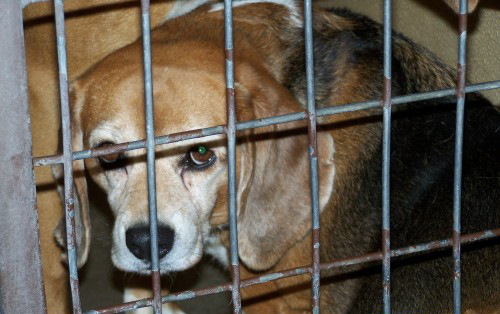 Every day…and yes, I mean 365 days a year, my inbox is filled with pleas from across the country.  The subject lines read like a death row diary.   "Please help….Beagles living with hoarder."  "Injured Beagle – need help!"  "Can't keep Beagle – we're moving."  "Beagle dies tomorrow due to shelter overcrowding- help!"   Since we are still euthanizing about 8 million animals every year in this country, I know I'm not the only one getting these pleas.  There are thousands of others doing what we do…trying to make a difference.  Trying to bring as many as possible to safety.  Some of the pictures are horrid.  All of them pull at my heart.  Many bring crocodile tears.  Sometimes I can't even look.  Then there's the voice mail messages…daily.  So, I sit here in my home office in Portland, Oregon filtering through each and every one of them.  I usually have to step away and get coffee about midway through.  I crank up the music and continue.
What goes into deciding if and who we can save?  There is no selection method.  There is no first come first served protocol.  Part of the decision process includes available fosters, condition of the dog, logistics and unfortunately, cost.  Many times we select the beagles that nobody else is stepping up to help.  The old, the medically challenged, the impossible.  Much of the time the ones we take in who are supposedly healthy end up having a serious medical condition.   One criteria is that they are a Beagle or at least mostly Beagle!
Intake Case Study
To better illustrate our process, let's take "Maynard", a little guy who was blasted all over the internet as the "Road Kill Beagle."  Everyone…thousands, in fact…were putting out the word for someone to help this little guy who was found as a stray surviving on…you guessed it, road kill somewhere in Georgia.  I had received a least a dozen emails, facebook messages, and other requests to help this boy.  I bit.  I looked at his picture and story, and I melted seeing a terrified, skinny red and white Beagle in the arms of an ACO (Animal Control Officer).  My thought process kicked in…I knew I had a potential foster in the area.  I had others I could count on to dig for more info on him and find out the exact status.  You see, sometimes when these dogs are plastered all over the web they have already been adopted; the story isn't even true; or the shelter has already disposed of them; or another rescue group has stepped in already.  So the first step is to verify that he is still in need of rescue.  Caron Sarver of Beagles On The Web is a great friend of CBR and other rescues.  She is willing to take the time needed to dig around and make calls to cut to the chase.  This process takes many, many hours if not days sometimes.  Working with shelters alone can be a challenge.  You get different people and sometimes you just keep getting voice mail.  This is frustrating when you're trying to pull a dog off death row…sometimes minutes can mean the difference between rescue or euthanasia.  In Maynard's case, he was still in need of rescue.  Now we needed to know what his health status was…if known.  Most of the time we get no information at all…as in this case.  All we knew is that he was hungry and sweet.  Perfect.  With this profile, I reached out to our Georgia fosters to see if they would be willing and available to take this little guy.  Yes,they were.  Perfect.  Now we need to coordinate with our licensed Georgia partner to pull him from the shelter and get him vetted.   All of this is going on in the background…meanwhile "the world" is still passing his story around and his fan club is growing…but still nobody is stepping up to save him (except us). At one point in this process we almost lost him.  Someone from the internet called this shelter and said they wanted to adopt him.  The volunteer marked him 'adopted'.  The problem is…there was NO plan in place to pick him up!  This person was from out of state and thought that by "saying" they wanted to adopt him, he would be safe.  WRONG!  What people don't realize is that unless you are a bonafide rescue organization many shelters are not going just hold a dog for you!  They get burned too many times.  When we got the news that he was "adopted", we are experienced enough to push into the details…and did, in fact, find out that he was NOT "adopted" at all..and had we not pushed he would have been euthanized when the other person didn't show up to get him.  It's a white knuckle ride sometimes…many times!
Here's a list of what had to be done to pull Maynard:[list style="check"]
Review case
Enlist Caron Sarver to research availbility and health status
Verify foster availability
Contact shelter to order a "Reserve-Hold" on him (paperwork, pull fees involved)
Coordinate with licensed partner in Georgia to (a) physically pull him from shelter and (b) deliver him to our vet
Prepare vet orders and arrange payment
Arrange for foster to take possession of him
Keep in phone contact with the shelter and the person picking him up to make sure there are no miscommunications resulting in the demise of the dog (yes, it happens)
Receive him and see that his condition is much, much worse that we were told
Deliver him to the vet for the myriad of tests, neuter, microchip
A couple of days later..back to vet he goes due to complications
Recovery underway – finally
Adoption – CBR Volunteer, Carrie, fell in love with him and had to have him.
[/list]
This particular dog cost us about $600 in vet bills and months of rehabbing from his former lifestyle.  Was it worth it?  Absolutely!  Could we have saved 2-3 others with this same money?  Yes.   Is this dog less worthy than those 2-3 others?  No.   This, my friends, is what makes rescue so difficult.  It's a constant battle between your heart and running it like a logical business.  Rescue is anything but logical.  It's about doing your best to make sure that every dog we pull in gets everything he/she needs.  We feel this is our mission…it's not about numbers with us.  It's about taking this one beautiful soul and trying to make right what humans made un-right in their past.
This was one of the easier cases and we will have several intakes going on simultaneously on any given day in many locations.  Just know that when it may seem quiet on the rescue front…it never is.  There is a flurry of activity going on in the background!  Remember…fostering is the greatest gift to a rescue dog!
Maynard today:
[one_third] [photoframe width="150″ height="112″ src="http://www.cascaderescue.org/wp-content/uploads/2012/03/maynard3-e1331493585483.jpg"] [/one_third][one_third] [photoframe width="150″ height="112″ src="http://www.cascaderescue.org/wp-content/uploads/2012/03/maynard2.jpg"] [/one_third][one_third_last] [photoframe width="150″ height="112″ src="http://www.cascaderescue.org/wp-content/uploads/2012/03/maynard.jpg"]  [/one_third_last]
Arooo,
Beagle Slave