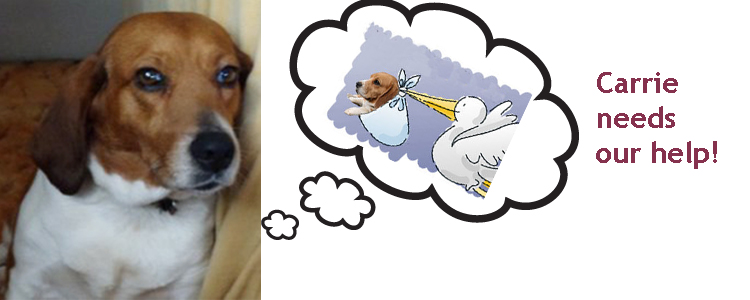 A beautiful beagle girl, "Carrie", wound up in a shelter and when the staff felt puppies moving around they called for help.  CBR to the rescue!  We do not know when Carrie is due, but here's what we do know:
1.  The puppies are visible on x-ray and they are quite large (we won't give away the number at this time!)
2.  She is high risk for needing a c-section.  These are expensive, folks!
3.  Carrie needs our help!
4.  Updates on her condition and delivery will be right here…and on our facebook page:
 Winner keeps 25%, Carrie keeps 75%
So, we are having a contest where you can help Carrie by guessing her due date and time.  The person who is the closest will receive 25% of the proceeds, and CBR will keep 75% to help Carrie!  There are lots of possibilities, so this could be a fun, win/win situation for all of us!  If there is a tie, the person who guessed first, wins!  Are you game?   Cost:  $10/guess and you can guess as many times as you want!
 CONTEST IS OVER.  WATCH HERE FOR WINNER!!!