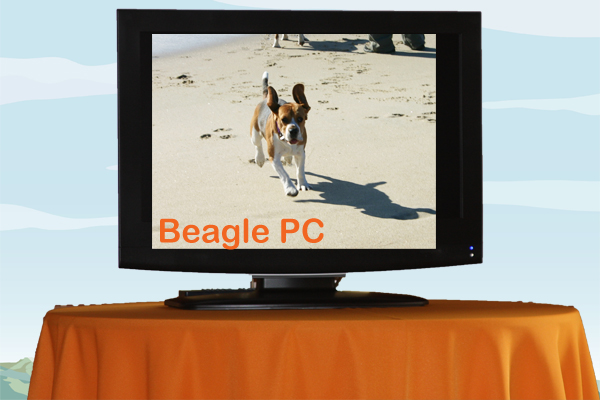 The Impact of Technology on Rescue
With the launch of our brand, spanking, new web site on our 7th anniversary comes fun and some challenges.   Mostly, it's exciting to get all the bells and whistles that comes with today's technology.  Social media, phone apps (we'll save the Apple v. Android discussion for another time!), e-fax, Google Voice, bluetooth, 'the cloud', tablets, phone cams, texting, mini hd video cams, wireless everything…whew!  Am I missing anything? And yep, we use it all.    Hi Lowell!  In case you don't know, he is our tech guru who makes everything spin.  He's a technical DJ.   Special request?  Done.  Problem?  Fixed.  His house is wired for sound too…literally.  He has web cams all over the place to watch his beagles while he's at work…and he has the whole system programmed so he can yell at them when needed right from his desk at work!  "PORSCHE!!  GET OFF THE KITCHEN COUNTER!!  YES,   YOU!!"  When Lowell joined our team and asked to take over our web site, everything changed.  A lot!  Our web site was done in old Front Page.  It wasn't pretty.  He was so kind and gentle while his face drained as he got into the back end of the site for the first time…at all the hanging code, broken links, bad file extensions..and stuff we didn't' even know about.  He spoke softly to me, "I think I can make it better."  I envision him thinking to himself, "O M G!!!  This thing is a MESS!"   It's a very appreciated luxury to have someone who can make anything you want happen.  We have our own TMOB (Tech Master On Board).  By trade he works as a computer security programmer for the nation's banking system.  I think he can handle CBR.  The funny thing is, when we met for the first time at Barktober 'Fest, he came up to me and introduced himself and said he'd like to volunteer to help with our web site.  I said, yeah, ok, sure.  I'll call ya.   I thought to myself..here is "this guy" who probably knows nothing about web sites (as if I did!) wanting to help and I'm supposed to give him access?  Afterall, everybody is a wannabee web designer, right?  Let me think of how to gently tell him NO.  That'll teach me, huh?!  Of course, he asked again at a later date so I knew he was serious, so we talked.  I'm an idiot.  The rest is history.
How does all this help in rescuing beagles?  Believe it or not, sometimes we can pull a dog from a shelter, get a transport, have someone take him/her to the vet, order supplies, and get a foster all set up…anywhere in the country…without ever  hearing a human voice!  And on the adoption side, people hit our web site, facebook, and all of the various listing services out there and select their next family member, complete an application and wait for a call.  I seriously have no idea how we ever did rescue without the technology we have today!  Mailing out applications in envelopes with stamps and including a SASE….seriously?  Don't misunderstand…NOBODY gets to adopt a beagle without going through our detailed process and meeting us first hand.  You have no idea how badly we want to ask for FBI background check, but meeting our wonderful adopters puts us at ease..they are wonderful!
Today, I was was looking at  "awstats", a tool on our server that shows the hit traffic on our site.  I clicked on "key phrases" which shows what people type into their browsers and somehow they end up coming to our site.  I don't know why but midway down the long list, I started laughing so hard.  Most of the phrases are logical.  Beagles (no brainer there).  Beagle rescue.  Beagle rescue Oregon, Beagle rescue national.   Ok, I'm still with ya.  Then I see "rotting teeth" and "beagle do do" and I start cracking up.  Then "beagles being nice" …what?  Aren't they always nice?  And then random people's names "Natalie", "Jolene" "Marcus".  Why on earth.  By the time I got to "why do beagles run away from you" I was laughing out loud..I guess that's LOL in tek talk.  Then I got to "lost".  That's it..just lost.  Not lost beagle.  Not how to find a lost beagle.  Just lost.  And I thought to myself…now how did CBR's web site become home to a TV show?
Arooo, Beagle Slave