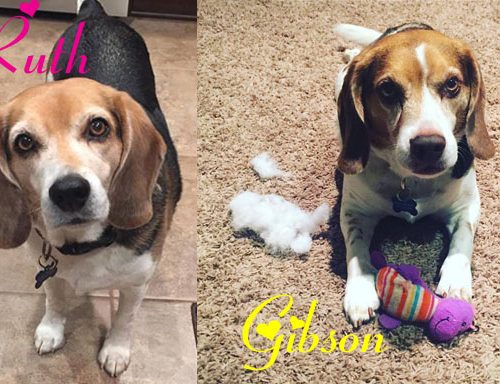 Ruth & Gibson came to us from Idaho. We took them into our program to find them a forever home and we cannot figure out why, after 73 days, not one person is interested in them! Both of these dogs are pretty much in the "perfect" category!! They are housebroken, SWEET, mellow, quiet, not escape prone, not diggers. They are cuddly and easy to have around. All they want and need is someone to love them and let them steal their hearts. Could this be YOU? Even though they are two, they equal one "normal" beagle because of their perfectness!
Gibson loves his toys; Ruth is not so much into toys. She's more into just looking cute!
The adoption fee for them is: $200 each + $20 each to transfer microchip
They are healthy with no known health issues.
Up to date on vaccinations.
Microchipped.
They are 9 years old.
Ruth and Gibson are ready to rock your world – are you ready for them?  Please complete our adoption application here: