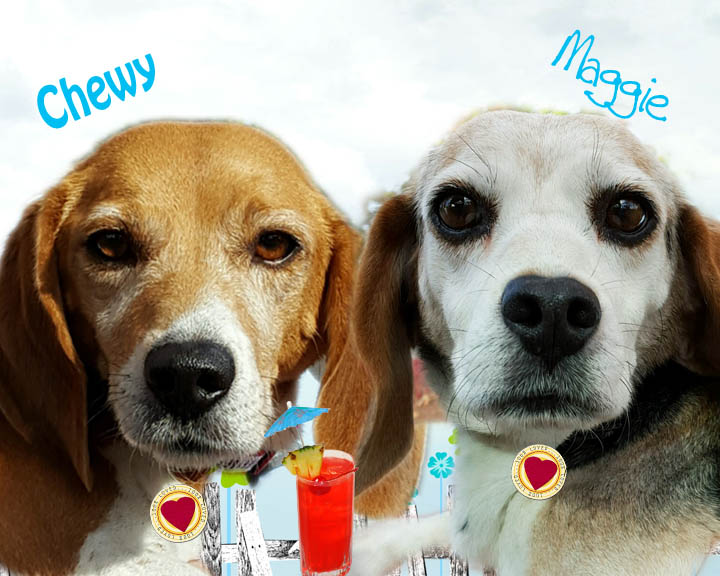 Chewy had a severe ear infection when he came to us. Despite multiple vet visits and treatments, it would not clear up. A culture was done and he was referred to a specialist. On 2/9 he had a procedure which involved slitting his ear drum and flushing out his middle ear of the bacterial infection residing there. His vet costs have exceeded $2,500. We are seeking sponsors for Chewy to help with his medical costs.
Two hearts as one — that's Maggie & Chewy!  These two adorable beagles are as sweet (and cute!) as can be!  They came to use as there was a divorce in the family.  Pleading eyes, soft spirits, and full of adventure, these two are ready to pack their bags and move right in!  They get along fine with other dogs and kids.  Since these two have been together their whole lives, they will be adopted together.   Don't let their age fool you!  These two will keep you on your toes.
Adoption fee:  $400 for the pair ($200/ea), plus $40 to register both microchips.
Age: Chewy-7 ; Maggie – 9
Spayed & Neutered
Microchipped
Fully vaccinated
Heartworm tested:  Neg
From:  Oregon
Current location:  Oregon
Maggie is the leader; Chewy, the follower.
Chewy looks to Maggie for strength and gets nervous if they are apart.
Happy go lucky beagles!  On the mellow side.
Tails up!
Good with other dogs
Older children ok (sincethese are older dogs!)
Housebroken!
Known to dig out if there is a weakness in your fence.
No known health issues.