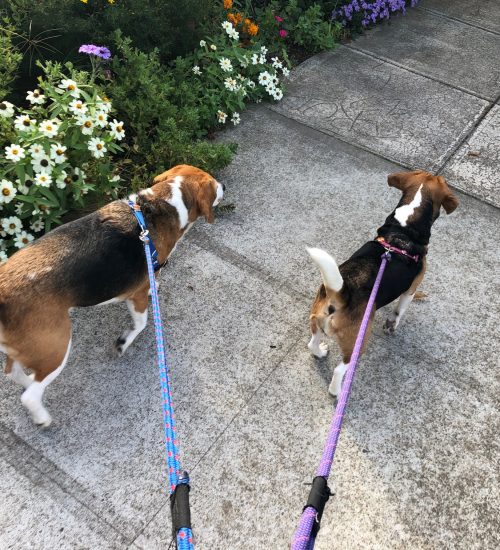 Ky & Donnie came to us from a family who couldn't keep them any longer.  They are both purebred beagles who have lived their whole lives together, so need to be adopted together.
ABOUT KY:
Ky, the mellower of the two, is the kind of guy who will hang with you on the couch.  He does love his walks though!  He is a large beagle with a great bushy tail.  He needs to lose just a few pounds, but he's in good shape!  He is vaccinated, neutered and microchipped.
Donnie came to us as an in tact female.  The day after arriving in rescue, she went into heat and then became very ill.  She developed a condition called pyometra, which is an infection in the female reproductive tract.  Poor little Donnie became very ill and had to undergo emergency surgery or she would have died!  She also had a mass removed from her mammary gland, but it came back benign (yay!).  Thanks to the great care of her foster family, she recovered nicely and got her spark back.  She will need a dental at some point.  She is a very sweet girl but she is keenly aware of what's going on outside – or actually everywhere – and will let passers by know she's in da house!  Arooo, Arooo!  On walks, if she sees another dog, she will bark and actively pull toward them.  People too.  Seems like a lot of action for a tiny girl like her!  She is also cuddly and sweet — and all beagle!   Her birthday is March 28, 2011 and is 8 years old.
The adoption fee for the pair is $500.00.  The medical costs for both dogs came to over $3,000, mainly due to Donnie's surgery.  You need to have a fenced yard for these two and experience with beagles would be ideal!  Small children might not be a good fit only because they tend to leave gates and doors open allowing escapes.  If you're interested in adoption, go ahead and complete the adoption application and let's talk!  ADOPTION APPLICATION
We do require a home visit (unless you are previous adopter) . The dogs are in Portland, Oregon.