Oh happy day!
March 8th was the day Cheyenne met her new mom, Karen T. of Pasco, WA.  Karen fell in love with her and just couldn't leave without making it official.  A six hour drive for Karen, but Cheyenne now has a real home and someone to call her own!  Congratulations to Karen and Cheyenne as they start their new life together!
Her Story: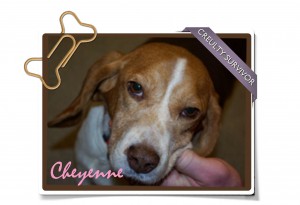 Cheyenne was a victim of a cruelty case in Maryland.  She didn't lead a very happy life, but she still has a very gentle spirit about her. She is a lovely chocolate Beagle who is about 5 years old.  She longs to be loved and will give as much love back!  She was living in a cage with many other beagles in squallor.  Her body condition is better than some of the others.
[tabs tab1="Stats" tab2="Behavior" tab3="Health"]
[tab][list style="check"]
Age: 5 (est.)
Spayed
Microchipped
Fully vaccinated
Heartworm tested:  Neg
From:  Maryland cruelty case
Current location:  DC Metro/VA
[/list][/tab]
[tab]
[list style="check"]
Sweet
Gentle
Wants to trust people again
Soulful eyes
Watch here for updates as we get to know her a little better!
[/list]
[/tab]
[tab]Known health issues:
[list style="check"]
Lyme Disease – being treated
Heartworm negative
Heart/lungs normal
18 lbs as of 2/1/13
[/list]
[/tab]
[/tabs]
[one_third] [images_mini_gallery width="299″ height="200″] http://www.cascaderescue.org/wp-content/uploads/2013/02/cheyenne-3.jpg[/images_mini_gallery][/one_third]
[one_third][images_mini_gallery width="299″ height="200″]http://www.cascaderescue.org/wp-content/uploads/2013/02/cheyenne21.jpg[/images_mini_gallery] [/one_third]
[one_third_last] [images_mini_gallery width="299″ height="200″]http://www.cascaderescue.org/wp-content/uploads/2013/02/cheyenne11.jpg[/images_mini_gallery] [/one_third_last]