Happy Paws (page 3)
Go to Page 1 Go to Page 2 Go to Page 4
Please email us the story and picture of the happy and successful adoption of your CBR-East Beagle!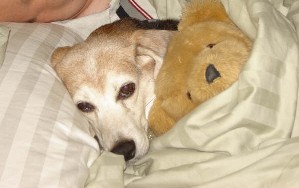 Joe Cool: I'm sure that you have been having a fun filled summer with all of the lab beagles that are coming to you from the lab. They look adorable!!! I was wondering about the details for Barktoberfest so that Joe, Joe Cool and I can take a trip down to visit and put some faces with names! We just got back from New Hampshire again... I attached some pics for your entertainment since, I'm sure you miss the havoc wreaked by our little buddy.
People are just suckers for him it kills me... Joe and I included. While we were in N.H. these past few days, Joe and I took him to Mt. Washington.... he peed on it (pic enclosed, kinda tacky but who ever would have thought one day he'd be there!).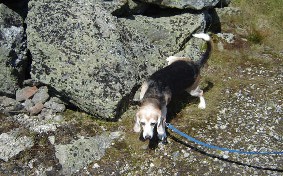 The funny part of the trip happened Tues night.... Joe and I went out for dinner and stayed out at some of the local pubs later then we had planned. So we rushed back thinking "Our poor little guy, he's so lonely!" When we got back at about 1100, there was a note on his doggie run that said "We're up at the inn visiting with Molly and Meg (the inn's mascots!)", kinda shocked that he was up there so late. We rang the inn keepers door bell, out ran Joe Cool.... he had been hanging out with Steve, the inn keeper, in his recliner sacked out for the night. Steve "felt bad" for Joe Cool since he's such a "people dog", so he went down and got him from the doggie lodge and kept him company until we got home. Needless to say, he wasn't lonely at all! He just melts people....
- Val, Joe, and Joe Cool (CBR-E February 2007)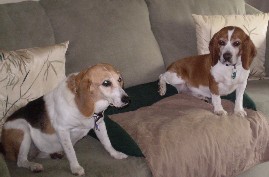 Jackie O: Just wanted to thank you again for doing such a great job with Jackie. What a sweet girl she is! She has been so good and Sophie has welcomed her with open paws. There is calmness that comes over Sophie when I go out instead of the usual shaking and panting. Jackie also loves the scents outdoors and her excitement when she starts barking excites us. She's definitely found her forever home with us. Just thought I'd send along pix. Keep doing what you do. It's a blessing.

- Jan and the Rubino Family (adopted Jackie O, CBR-E July 2007)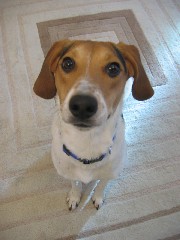 Potter: Thought I'd send along some recent shots of Potter and his brothers. He's adjusted very well. The oldest beagle (Roody) was slow to accept him, but they play together now aside from some periodic jealousy on Roody's part. Potter also grew to be 20 inches tall. He's all legs. Guess that makes him a Beagle mix of some sort. We thought maybe Foxhoud, Saying his name to his face usually results in him dropping to the floor and rolling on his back with his tail wagging waiting for a belly rub. Hope you enjoy the pix. Thanks.
-Steve T. (adopted Potter, CBR-E June 2007)
Gus: Gus has been part of our family for almost six months. We thought long and hard before adopting Gus because he did have some special needs but I was hooked on him from the moment I saw his picture. When I read the paperwork that came with Gus outlining all of his special needs I can't believe it was written about the same dog that has been in my home and heart since the end of June.

The beginning was a little difficult for Gus, everything was new. It took most of July for him to warm up to us and be comfortable. He wasn't used to being held and cuddling up with people. He did not seek out any human attention. Everything scared him, including his new dad, Mike. The easiest things for him were house training and being weaned off his prescription diet. His first favorite spot in the house was our bed. Whenever he was nervous or unsure that is were he ran to. Cassie has been a great big sister for Gus. Gus followed Cassie everywhere and she showed him the ropes. We made sure that he didn't spend time alone, and that he cuddled us and we petted him and loved him all the time. Slowly Gus began to unwind and become more and more comfortable.

He still loves the bed, in fact he is the worse one in the house for getting up in the morning. Now his new favorite spot is wherever I happen to be. If I am not within his reach he cries, it is very cute and has been most successful in getting him even more hugs and kisses.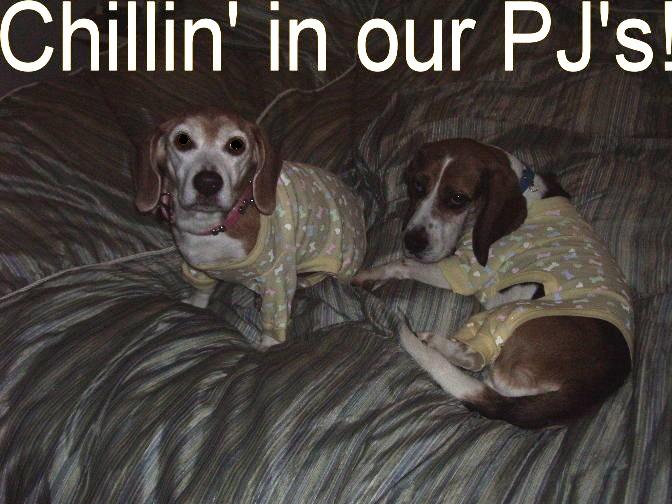 Cassie and Gus are beagle best friends, they love to cuddle up when they are sleeping. The two of them run through the house chasing each other, wrestling and jumping around. We took the two to a bark park and it was quite interesting to see. While they both went off in their own directions to explore every couple of minutes they would meet up, check-in and then be off again. It was the oddest things I ever saw, they had to make sure that their buddy was still there and okay. Anyone who says that dogs don't have feelings has never been near a dog.
Gus' anxiety and the things that scare him have diminished. He no longer runs when Mike comes in the room. Now he runs to Mike and jumps on him for hugs and kisses. Gus demands affection all the time; he will lean into you or bury his head under your arms. He has also taken to howling randomly for no apparent reason, just the joy of being a beagle.
The biggest change in Gus is that in June and for most of the summer I was convinced that his tail was broken, you barely ever saw it wag. One fall evening as we were all watching TV Gus suddenly jumped off the couch, ran to the middle of the room and began to howl. No-one moved, we wanted to see what would come next. Then Gus began to sort of skip/hop in a circle, roll on his back and bark. That was followed by several high speed laps around the house. This was the changing point, this is when we knew he loved us and was happy. Ever since that moment the tail wags non-stop! (unless he is crying because I am out of reach).
Words just can't describe how heart warming it is to see this beagle's confidence grow leaps and bounds.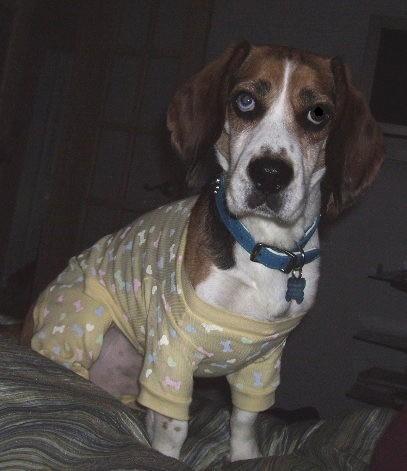 Mike and I call Gus our little mush ball because he just loves to be held, petted, talked to, and he follows me everywhere. I couldn't imagine life without Gus around. He has warmed our home. It is also amazing how he has changed Cassie's life. She has been reenergized since Gus has come home. You would never guess that she turns fourteen in January. The best thing that we ever did was to adopt Gus. He truly deserves to enjoy a long, healthy, and happy retirement; and that is exactly what we intend to give him. I am proud that we are a part of Gus' success story and we truly thank everyone from Cascade Beagle Rescue, especially Carolyn for all the love and patience that you gave to Gus. You helped to complete our family and there isn't a day that goes by that we are not grateful.
-Jen, Mike and Cassie (adopted Gus, CBR-E June 2007)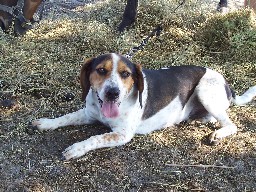 Lucas: Hi, I hope you are doing well. Lucas is just doing wonderful. We love him so much, and him and Dallas are so bonded I think they would be lost without each other. Lucas seems to have overcome the fears he had when he came to us. He finally chews bones and plays with toys, and we've discovered this summer he loves to jump in the pool and go for a swim.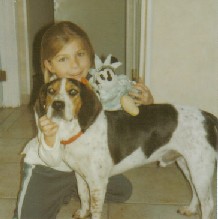 My daughter and him are so close, she spends hours training him in the back yard and I'm amazed at what they can do together. She wants to try some dog agility classes with him when she's a little older! I'm convinced that Lucas was some how meant to be with us. He has filled this house with so much love and joy, we couldn't imagine not having him in our lives. I've attached some pictures of him for you. We can't thank you enough for placing him with our family.
-The Puccio Family (adopted Lucas, CBR-E November 2007)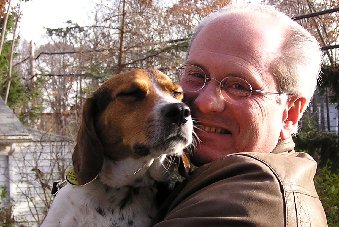 Chester: Chester is doing wonderfully well; we love him and he loves us! We're still in training (not sure if he's in training or we are...) about his sudden bouts of barking (like at 2 in the morning, if he hears something outside...), but this has improved a great deal since his adoption last December! He has gained a couple of pounds which we are watching (I know beagles can get tubby which is not healthy!); he loves our yard and, now that it's summer, he spends many hours on his lead sniffing every blade of grass and checking out every hint of squirrel, groundhog or, dare I say it, cat! He seems very contented here, has made friends with various other local canines; a couple of the neighborhood kids knock in the door to visit him! (Not us, but Chester...)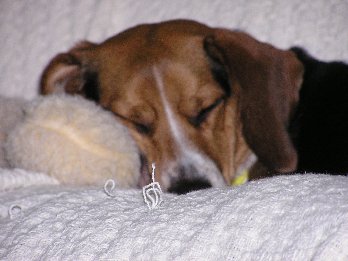 Thank you again for rescuing Chester so that we could have this adorable addition to our family! We couldn't be happier with our pup!
- Judith and Tom Eckhard (adopted Chester December 2007)
and Chester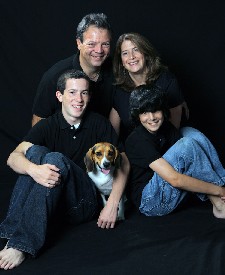 Bella: Hi, Our sweet Bella is doing great! She is very much loved and gets lots of belly rubs. Bella has lots of comfy places to rest her sweet head all over the house. We just adore her. She has lots of friends in the neighborhood and every time we take a walk people stop to say hello and pet her. She loves everyone and everyone loves her. She has brought us great joy.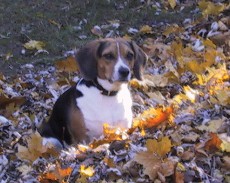 Here is a picture of her from last Fall. We were raking the leaves and Bella just walked right in and made herself comfortable! We also took a family portrait with her. Thanks for bring Bella into our lives.

- The Mandragona Family (adopted Bella August 2006)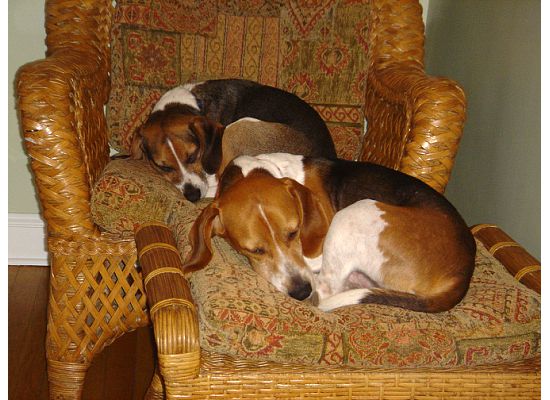 Elton: Just wanted to update you on Elton... and how much we love him.. He is

Hope all is well and if I can ever help in any way..please send me a
line. Again.. Elton and Scooby have become best brothers.

- Melissa and Ben (adopted Elton September 2008)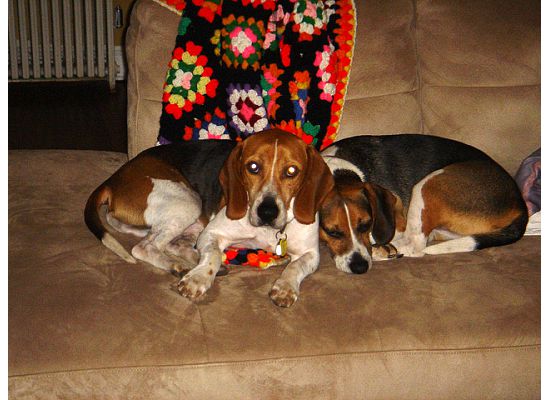 doing soo well... We are sooo happy and I wish we could foster all the beagles that need help. I get the emails and it breaks my heart..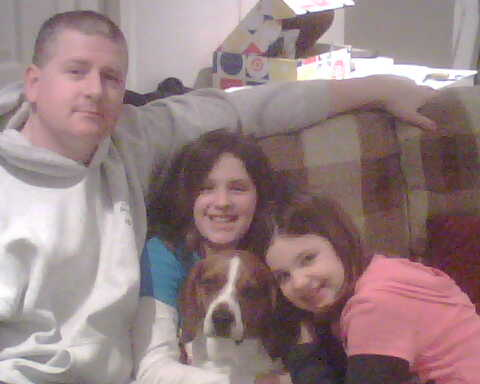 Davey (formerly Riley): Hi Pattie! It's been one year to the day since we adopted Davey (Riley). My girls changed his name to Davey after we found his name "Dave" on some of the paperwork he came with. Davey has turned into a wonderful member of our family and has many four legged friends in our small beach town.

We could not be happier with him and our experience with Cascade. Thank you so much. Hope you are well!

- Tom Collins (following are some comments from my daughters, Davey's "sisters")

(adopted Davey January 2008)



Allie: I love Davey sooooooo much!!!!!! He is the most lovable dog I ever met!!!!!! (Besides all the other dogs I had in my life.) P.S. Grandma says he's the love of our lives!!!!!!!!!!

Abbey: My dog Davey is the best dog ever!!!! He likes to eat... a lot. Sometimes, he'll sleep on the couch and stay there! And when he is in his crate, the door is open! He has a dog hotel! He's funny, he's cute, and he's a great companion. P.S. I've trained him to 'sit', 'lie down', 'take a treat nicely', and Allie and I are working on 'paw' now! He listens and does what he's told! Oh, and when we say, "No!" he walks away from what we said 'No' to! I'm glad that we got him when we did.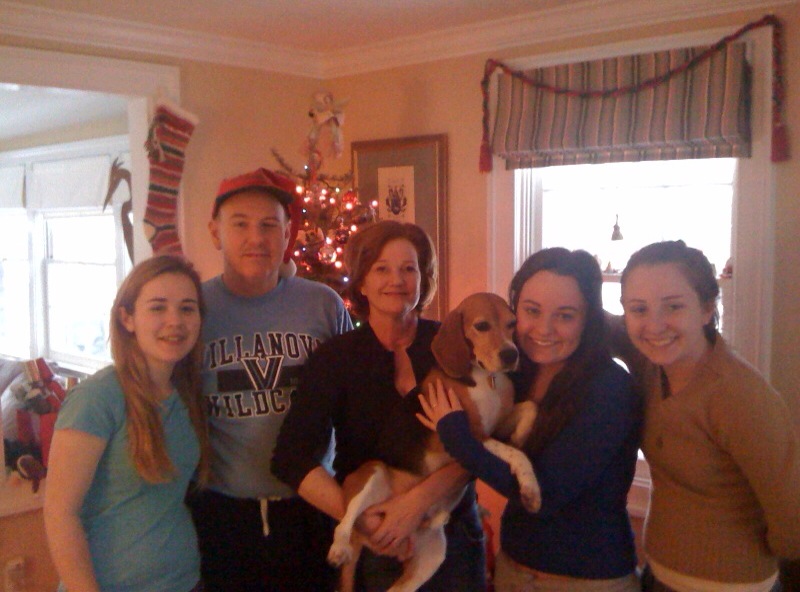 Danny Boy (formerly Denzel):


Danny Boy (formerly Denzel) has been with us nearly a month now and has already become a family member. Initially shy, as he settled in his personality began to show. He is the sweetest, gentlest imp, making us laugh all the time. He is very cuddly, and has already made friends with everyone - human and animal - in the neighborhood. When we think about his life - the first 5 years in biomedical research - we are determined to make sure the rest of his life is happy. Danny suffers seizures, which are mostly controlled by meds, and no big deal. I would encourage anyone considering adopting to look at special needs animals (any questions about these dogs, please email me at the address below). These dogs and cats need homes too, and become extremely loyal to those who give them homes. Danny is our third special needs dog, and when people tell us that we are kind for taking in these dogs, I know that the truth is different. It's really quite selfish, as these dogs give us more love than we could ever, no matter how hard we try, give them.

-Ginny and Robby Casey and girls (adopted Denzel, CBR-E November 2009)
To report problems with this site, please contact the webmaster.