Memorials- Main

"
Autumn" Garland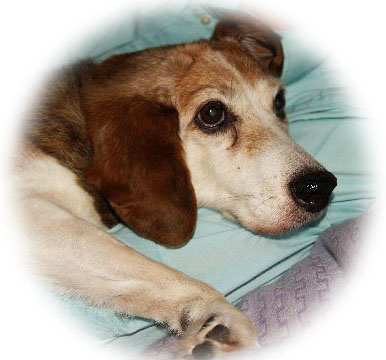 12/5/08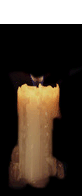 Click here
to write a tribute to
"Autumn"

or
to make a donation in her name,
click the beagle angel below.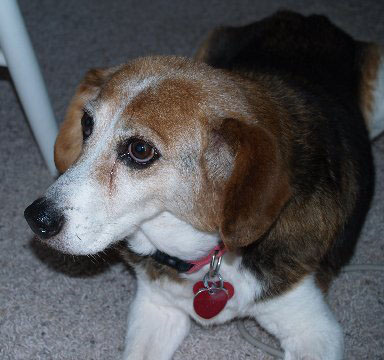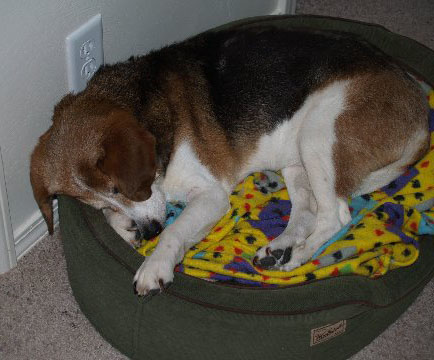 Our precious beagle girl, Autumn, became God's newest angel today. How very lucky the Bridge is to have this very special girl!
But, oh how it hurts and is breaking our hearts.
I'll never forget the day we first saw Autumn in Oct 2004. She was sitting in a crate, scared to death, when she looked up at us. It was if she was saying "please take me away from all this." She had just had knee surgery and was in such bad shape. Our vet honestly didn't think we'd have her for 6 months, maybe a year if we were lucky, but boy, did she fool him! He also said "what a great little dog you have here." Hey, we knew that!
She became friends with our other dogs, loved playing with Bennett and Barney, napping with Mollie. She barely batted an eyelash when we brought puppy Sydnee home, and welcomed Sebastian and Katie. She especially loved to greet her Daddy each night with a loud, rousing bark and happy smile!
Despite a heart murmur and arthritis, she persevered as only a stubborn senior beagle girl can. When the day came for Autumn to leave us, she did so on her own time, her own terms. And, as Autumn leaves, colors fade, the world darkens.
Godspeed little girl, soar with the angels, we'll see you again and always remember how very much your Mommy and Daddy love you............
Tributes & Contributions have been received in Autumn's honor from:


Blessings on your family because they gave you love when it was a new thought to you.
Run and play Autumn say Hi to my boys for me
Susan in WA

All our love to you, Rick & Mary, during this difficult time. We understand as it was one year ago that we lost our little Diva-roo. Our hope is that the thought of Autumn being free from pain and illness will bring you comfort. Give yourselves all the time you need to heal...and know we are here for you. Arooo to you little Autumn...run and be free.
Love, Denise & Susan

Autumn was cradled in the love of her human
family as she left this world to be cradled in the
arms of The Father in the next world.
I'm so sorry for your loss.
My heart aches in sorrow, but heaven is rejoicing.
The dog star Sirius shines even brighter now.
Love, Gail, Josie and Oliver

Godspeed sweet Autumn! Run with the angels dear.
Carol & The Crew


Godspeed little beagle girl.........you were and still are VERY loved.
Pam, Carson, Freeman, Phoebe,
Foster Girl Frankie,and the FeLions
...
Chipper, Maggie, Trooper, Denny, Opie, Gracie and Stinky, Grande Dame of the FeLions...waiting at the Rainbow Bridge


What a wonderful life you have had Autumn! Two wonderful people cherished you and let you know just how special you were to them. You brought them love, devotion, and many, many beautiful memories. Fly with the angels, little Autumn!
Peace to all,
Michelle and the Dodgson Beagles
(Bailey, Buster, Baxter, & Bell)

We are sure Autumn is up there playing with our Vicky, London, and Ashley! Our thoughts are with you....
Sandy, Dan, Steven, Austin...and...
Bailey the Resident Beagle,
Joelle the Service Dog...and...
Gracie, our Foster Beagle


To Autumn with Love
Susie, Ed, Sunny & Nellie

Dearest Autumn,
When your Mommy and Daddy adopted you, I was so honored to have you named after my beagle girl, Autumn, who had recently crossed over. You brought a ray of light into a dark time. We are happy that you are once again whole and running free, yet sad that you had to leave us. We look forward to the day when we will all be together again.
Love,
Auntie Laurel

For a very special girl who shared love with
a very special family.
Kate & Coqui'

Run free, sweet Autumn. We can see just how loved you are and always will be.
Toni, Bucket, and Bandit

Sweet, sweet girl - so many precious babies meeting you in Heaven....
Karen, Jake, Lulu, Ernie, Buddy and Poppy, Bear and Gromit with you now.

Nancy Flores

Catherine O'Connell

To report problems with this site, please contact the webmaster.