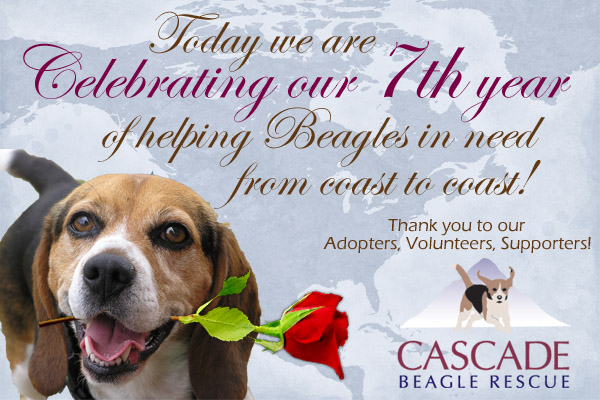 Seven years ago today Cascade Beagle Rescue was born.   Several hundred beagles later and we're working harder every day to fulfil our mission.  Rescue is hard work but pales compared to the hard lives most of our rescued beagles have endured, so no time for whining, time to get back to work!
What We Are Proud Of
Saving Beagles.  First and foremost, we are proud that we have been able to save beagles who would have otherwise been euthanized, continued in an abusive lifestyle or weren't wanted.  We are especially proud of those cases that most wouldn't or couldn't touch due to lack of resources (human, financial, logistical).   Some cases come to mind…River, Gunnar, Bella, Bugs, Judson.   There are too many to name here, but suffice it to say these are very worthy dogs who have made their adopters pretty darned happy!
Our Vision.  One of the proverbial carrots in the very beginning was to rescue a beagle/s from all 50 states.  Never thought it would be possible and laughed while thinking it.  BUT, I have learned to never underestimate the power of the R.A.'s (Rescue Angels…the force that drives this thing).  As if almost by accident we have now helped beagles in over half of the states in the country, including Alaska & Hawaii..and even Canada!  But nothing's really by accident, is it?  Another day, another post and we'll delve into the R.A.'s and proof they exist.  We have come to learn there are no state lines in rescue.
Our Volunteers.  All of us at CBR are volunteers.  Someday wouldn't it be great if we could all get paid so we could quit our 'real jobs' and just do rescue?  Think big… I do!  However I must say if we could hand pick volunteers out of the entire world's population, we wouldn't change a thing.  Yes, they all have wings and walk on water…just ask a "Old Man River" or "Bessie" or "Sebastian & Katie" or any CBR Alum Beagle who now gets to sit on the sofa sharing popcorn and who never has to worry where the next meal will come from!  CBR volunteers do this because they love beagles, love animals, want to make a difference on the planet, but also because they are just good people pure and simple.  Good people who do crazy stuff for beagles.  Ok, I'm the one asking for crazy stuff to be done, but hey..they're willing!
Our Adopters.  As if handed to us on silver…no, golden platters, we have the absolute best adopters!  They endure our lengthy screening process and wait patiently while we scatter in the background biting our fingernails hoping they will be the right person for this precious beagle.  When we meet them and they lock eyes with their sweet beagle for the first time  you know.  And they live happily ever after.
Our Supporters.  When we are dire need, people help.  Period.  Sometimes we feel like WE are the ones who have been adopted.  Let's face it.  Like with everything in life, without money, it doesn't happen.  We simply could not save a single beagle without our supporters.
Thank you to all of you who believe in us!
So in celebration of our anniversary comes our brand new web site, which, if you are reading this, you have already found!  Welcome and thank you for reading our brand new blog!  I promise it won't be this long every time!
 Aroooo, Beagle Slave