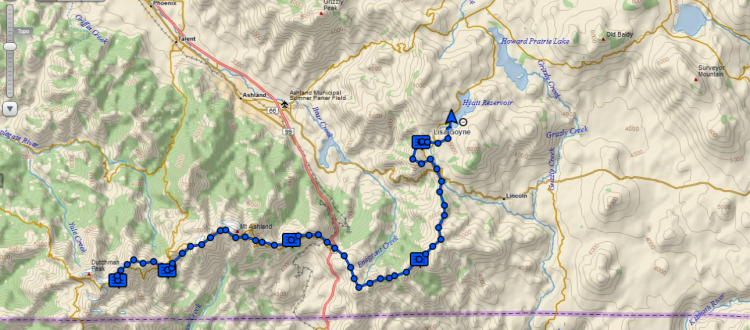 August 2, 2016:  Lisa and Jenny checked in today and they're doing great!  Today is what's called "resupply" where Lisa will hook up with Ground Control, Kimi and restock food items and whatever other supplies she needs.  They have completed 52 miles already – more than 10% completed!!  We decided in honor of Lisa, Kimi & Jenny's huge accomplishment, we would let Lisa name our next 45 CBR rescue intakes!  Her first one is named Mac (for Mac n Cheese – a dish she says she will miss).  Mac arrived at CBR yesterday and is in foster currently.  Sounds like "Pilot" is the next name she has selected for a special reason.  Read on!
Oh!  If you'd like to follow along on the map, here's a fun link that shows where the adventurers are!  Click on Lisa's name and hit the plus sign to see the map in action.
FOLLOW THE 450 MILE HIKE RIGHT HERE!
From Lisa:  My cousin and I are having a blast despite the high temps, lack of water, and near rattlesnake bite! LOL! Happy to be at our first resupply spot with Kimi and the pups. I just ordered a cheeseburger and milkshake with absolutely no guilt. If nothing else, there's a reason to do the trail. Ha ha.

One afternoon we took a two hour break near Pilot Rock in the shade with the most delightful breeze blowing across the ridge. It was a memorable spot to take a break because of the views, the climb it took to get there, and of course, the welcome breeze. With temps in the high 90s, we appreciate any cooling we can get. So, how about Pilot for a name for an incoming, future beagle?
~Beagleslave