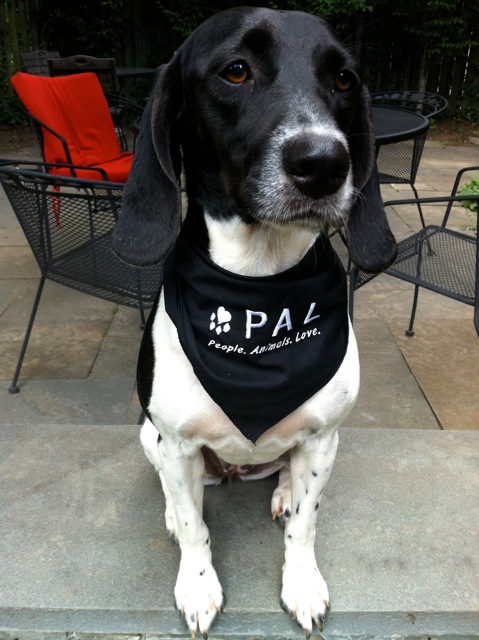 CBR Alum Becomes Therapy Dog
My New Life of Helping Others
As told by CBR Alum, "Hansje"
Newly arrived at our new home, barely four months old ourselves, my sister and I were taken to a nearby pet shop to have our picture made.  It did smell nice there and people loved us. The truth is, we were scared to death and behaved poorly. We couldn't help but notice two Chihuahuas at this same photo shoot. They behaved like angels; their owner called them 'Therapy Dogs.'  We heard that twice a month, they visit patients at a local hospital.  Their Mom told ours that the patients love it. Mom decided to check our People and Animals Love (PAL); she learned that we must be a year old to join.
In our early days, we were shy and unsocialized–we didn't know better.  Once Mom decided that PAL would be good for us, we had some time to work on our social skills. So, she signed us up for School.  Now, I have to tell you–the best thing about going to school is all the treats the teacher has; the smellier, the better.  One special time–slow baked pork liver; I drool just thinking about it.
In the beginning, my sis Grietje was mostly hiding under tables. She is shy and a bit nervous, more like her Dad, a Pointer.  I am more the Beagle-character of my mom, not so shy.  Why, I'd do anything teacher asked, earning me the rightful name–"Teacher's Pet."  More classes, great treats–in class, and at home every day. Soon we were that magic number One for PAL.  Mom took me to the introduction meeting–just me, not Grietje.  We felt she still was a bit too shy.
So, on a mild morning in Spring, Mom and I drove to the 'Army's Retirement Home.'  (I'd had a dreaded bath the night before, but felt clean and shiny with this new day.)  The winding road left me a little carsick, but we arrived in time for a little walk and fresh air.  Mom and I walked to the check-in desk; I immediately noticed a whole pack of dogs and owners.  I let them know right away that I was there; giving a little grrrr.  (The Pal people later told my Mom that I had to be a little less outspoken.) We all showed off our basic manners–sit, down and stay.  One dog did amazing tricks, like dancing!!  He even faked his own death! Boy, was I impressed!  Then, we started on the real work.  We met some older men, most of them in funny chairs with wheels. The only thing I needed to do was to be friendly—not hard, I'm a Beag.  I had learned to make eye contact, so who wasn't going to fall in love with my big, soulful, brown peepers?!  And, they loved my floppy, silky-soft ears.   Shall I say that I passed with flying colors?!
Next step was for Mom to choose a place we would visit regularly.  She found a home for older folks in our neighborhood, so I wouldn't get carsick.  For this regular visit – with five other dogs – we just went from room to room for a chat, a hug, and a look into my beautiful eyes. The staff really liked us, too. They told Mom that people are healthier and happier when exposed to pets–especially dogs. I like to add, "especially beagles, especially me."  I love my new life.  Making people happy, and me getting treats. Maybe someday, Grietje will give it a try. I'm so happy we met those Chihuahuas.
Love, Hansje
Note:  Hansje & Grietje were dumped in a shelter when they were just a few weeks old, along with their mom, Molly, a purebred beagle.  Their dad was a German Shorthaired Pointer, we think.  Molly was adopted in Portland, Oregon.