Braveheart's Page
| | |
| --- | --- |
| | |
| Kisses, Kisses, Kisses | Braveheart still loves people... |
I am a 2-year-old sweet beagle who loves everybody. My former owners didn't love me back. It was
the 4th of July and there was a big party at my house. When the fireworks started going off, I got very, very afraid. I accidentally pooped in the living room in front of company. When my owner saw what I had done, he started screaming and kicking me. I was so sorry I did that, but I couldn't help it. He was kicking and kicking and I could no longer stand. I tried to drag myself to a corner to get away from his abuse, but the last thing I remember is his foot coming toward me. I lay in pain all night not knowing what to do to help myself.
The next morning, I was taken to the ER hospital and my owner told them to put me to sleep because he didn't want to pay for treatment and he just didn't want to be bothered with me anymore. The wonderful doctor at NWVS was so kind to me and spoke so sweetly to me…but she had a look of despair in her eyes. She went to a back room and discussed my fate with other vets. They decided to call CBR and ask for help. CBR immediately said YES, they would help me…and my life was spared.
| | |
| --- | --- |
| | |
| In the arms of the neurosurgeon, Braveheart hangs onto life. | Hands helping Paws |
The hard part now is that I can't walk. I have a severely inflamed spinal cord causing paralysis from my mid-spine down to the end of my tail. I cannot walk or go to the bathroom by myself. I have a lot of special needs right now. I need a special bed and for now, I need a sling or a doggie cart to help me get around. The specialist thinks I will walk again some day, but it may take a long time. I am beginning to get sensation in my back legs, but I still can't move them or even wag my tail. In the meantime, I need monetary help to purchase the supplies I will need and also to help pay for my continued medical care.
Paralysis obvious, Braveheart is thrilled to have visitors in the hospital.

Braveheart takes his first walk in a sling, 4 days after his injury.

Braveheart tries out his temporary cart. It's a challenge, but he's up for it.
Here is a list of items I will need: a special orthopedic bed so I don't get bed sores, special booties so my feet don't scrape along the ground, doggy diapers, a doggy cart and sling, and special cleaner because I can't control my bladder. Some of the medical help I need includes hospitalization, rehabilitation, and physical therapy.
I understand all of these things cost a lot of bones…and right now I don't have any. But if you could help me, I promise I'll work hard to repay you…with love, kisses, and whatever bones I haven't yet eaten (I am a beagle after all)! Thank you for caring so much and for bringing hope back into my life.
Love,
Braveheart
From Tinker Sarver, "You can do it buddy!". - Caron & Drew S.

Big hugs to Braveheart! - Forrest & Kelly M.
My prayers are with you. In memory of Radar and Rowdy - Karen H.
In loving memory of our beloved beagles, Bagel & Barney - Vicki S.
Stay strong Braveheart. We are all pulling for you to make a full recovery. -Joyce A.
In loving memory of our beloved beagles, Bagel & Barney - Rick & Mary G.
Gail W.
Nora G.
Lynn W.
Lenore B.
Cindy P.
Michele K.
Here ya go Braveheart, I am so sorry you humans treated you so badly. That has me in tears. I know this isn't much but I would like to help you with what I can. God bless. - Julie T.
Five Texas rescued basset hounds and their basset slave are sending lots of healing drool to Katie, Braveheart and their CBR caretakers (i.e. foster 'angels'). God bless CBR as they take on the challenge of helping Katie and Bravehart heal from their physical and emotional wounds. Maggie, Jackie, Kim, Rosie (ATB 9/3/05), Daisy (ATB 5/27/04) - all at one time my foster basset hounds through North Texas Basset Hound Rescue, Inc. - Janet D.
I cried when I read Braveheart's letter. How can someone be such a monster. My beagle, Bella is in the final days of the B.O.N.E.S 2007 Calendar Contest. The money I was going to use to add more votes for her, I'd rather send to Braveheart. God bless you for taking him in and caring for him. Will charges be brought against his former owner? I sure hope so! - Ron J.
'For Braveheart, From Duke & Joy, former Tesoros Beagles, currently living the good life in Huntington, TX - Anthony Z.
May another beagler never feel your pain - keep your spirits up and good luck, Braveheart! - Love, Bailey, a beagle from PA
Stephen D.
from Marilyn and Chaos
Charlie E.
Virginia B.
Gregory S.
In memory of Mia who never knew an unkind act
HONEY POT HOUNDS
Anneliese K.
In memory of Hutch
M. Gouin
Do not give up. A lot of people love you! - Roger P.
I'm not a beagle, but I was abused too. I have a loving home now, and so will you. Love, Penny
BraveHeart, you have the sweetest face. I pray for your rapid healing and that you will have the best forever family ever. NancyAnn in Oregon
Hope you feel better soon! - Tanya S.
From your beagle buddies, Blue and Bella, a former CBR beagle who found her home with humans who would NEVER hurt her and love her and her brother dearly and are so sorry for you. In memory of Tucker and Bodie, too.
Marva-Lea K.
Hope the person who did this will be prosecuted!Sometimes you really wonder about humans! Hang in there you are in kind hands now. - Beagles Chloe and Murphy
Hope you have lots of reasons to practice wagging that tail! - Doranna D.
Hang in there, buddy! Lots of hugs & kisses to you. - Nikki & Ray and beagles, Hunter & Ally

To Braveheart: Get Well Soon.

- Love Abbey

Braveheart- Here's hoping you find a home as lovely as mine. From one dearly loved beagle- who is also scared by fireworks- Gabby.
'What an apt name you have, Braveheart. Keep fighting. Much love, Stephanie
'Mom sold a puppy today so she is sending part of the money to Braveheart. -Irish Coffey Beagles
'In honor of a beagle named Rusty Blue & a collie named Seamus who are proud to help Braveheart & Katie.'
K. A'Rowan
Hang in their buddy, we know you can do it! Your beagle buddies, Scooter & Autumn Your golden retriever buddies, Mollie, Bennett, & Sydnee
E. Ferrari
Poor Braveheart, How could anyone be so cruel. Be strong sweetheart and fight on. I hope you find a forever home soon. Hellen, UK (owner of Caleb and Foxy-Roo - beagles)
David W.

Julie K.

Mignon C.

Smokey & Thurston Howl V hope you get well soon and find the family you deserve.

'Braveheart,Bless you and may you recover and never be in pain again.' Valerie, Dwane, Beauregard, Benjamin, Elizabeth and Mikey ATB

'Braveheart, its great seeing you on the Web CAM and the progress you are making. Bella and I have decided to stop our Sunday ritual of ordering pizza and we will be sending the $20 we would spend to you every week. When I'm depressed I just go to the Web CAM and you make me feel better. Thanks. - Ron J.

Get well Braveheart and know that there are many who love you and are praying for you. God Bless - Audrey R.

Hang-in there Braveheart! - Betsy S.

Judith W.

Kim N.

Helena V.
July 13, 2006: Dr. Prouty is discharging Braveheart tomorrow! CBR's Critical Care Team, including his fabulous foster, will be trained by our vets on how to care for him. He still has no bladder or bowel control, but today he exhibited a slight flex in his right hind leg and tucked his tail! He will be in intensive rehabilitation in the next few days...watch for updates and pictures! BRAVEHEART sends AROOOS to all of his supporters.
July 23, 2006: What a huge heart and gentle soul this sweet dog has! He seems to make improvements every day...small improvements, but improvements nonetheless. One of our greatest days was when he began to be able to wag his tail to greet us! Just say "BRAVEHEART!" and he wags his little tail. He is beginning to be able to bear weight on his legs while in the sling, but cannot stand on his own yet. He is able to control his bladder as of a couple of days ago...a huge step! This little guy is set up in our office in a baby crib and he hangs out with us all day. He watches every move and lets us know when he needs to go outside to relieve himself. During those times, we set him into the sling and let his front legs do the walking right out the door! Such a love. Braveheart sends his greatest love to all of you who have helped him. He will have a long road ahead of him, but with the whole country sending him strength, how can he not make it? THANK YOU! Watch for updates from his vet visit coming up on July 26. He also has his first rehabilitation appointment that day. Most days you can view Braveheart on the web cam, by logging into Yahoo! Messenger, and adding sobrien1 to your buddy list. Click on "view my web cam" to watch him! If you get stuck, email Susan O'Brien at: [email protected] and she'll walk you through the process!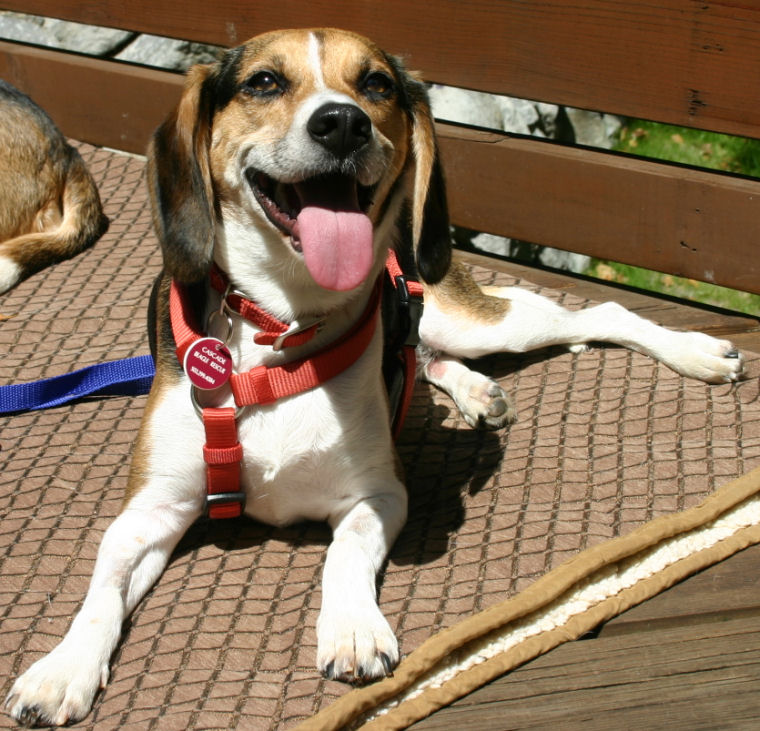 July 31, 2006: It's a beautiful sunny day and Braveheart is still making tiny improvements. He has another rehab session tomorrow. He decided he wanted to go outside like all of our other beagles and bask in the sun! Take a look at how happy this boy is now that he's feeling better and sees a ray of hope! Notice his brand new harness and collar! He is able to bear weight enough to remain standing, with help, for almost 30 seconds. He is starting to move his back legs forward in a walking motion, but they're not in sync yet. His tail...oh, that tail! It wags and wags...a very rewarding sign of progress! THANK YOU to all Braveheart fans! He remains on the web cam daily!
August 2, 2006: Braveheart continues to make small improvements...actually BIG improvements! He just completed his second rehab visit and he actually was able to go from a sitting position to a standing position! Wobbly, but successful. He had his first underwater treadmill session too! At first he just thought the big tank was for drinking...then, with the technician's help, he figured out that his feet could actually MOVE while under water. The tech manually moved his hind legs in a walking motion, then he started this motion on his own! Through the tears, he was encouraged to keep going...and he did. After this session he was exhausted and had a long nap. THANKS to our donors, this therapy is possible! Braveheart says THANK AROOOO!!!

This is me taking a stroll down the hall with the help of Dr. Shaw and mascots Savannah (rottie) and Daniel

Therapy tank starting to fill.
Technician helps guide my feet!
Look at me go!
August 8, 2006: Braveheart stood on his own today! It was like a miracle just happened! We were cleaning out his pen and laid him in a bed outside the pen. We turned around and there he was...standing there wagging his tail! In therapy today, he was able to do 8 minutes on the underwater treadmill...without assistance from the tech! It is such an exhilarating experience to see him progress from total paralysis to taking his first steps. He couldn't have done it without the words of encouragement from all of his on-line fans! Oh...Braveheart has his own email address now: [email protected]! Feel free to contact him. He personally answers each email! Also, the web cam has been down for a few days, but it's back up now. Please log on (see above) to view him!
---
October 10, 2006: Braveheart continues to grow stronger...and is getting quite spoiled as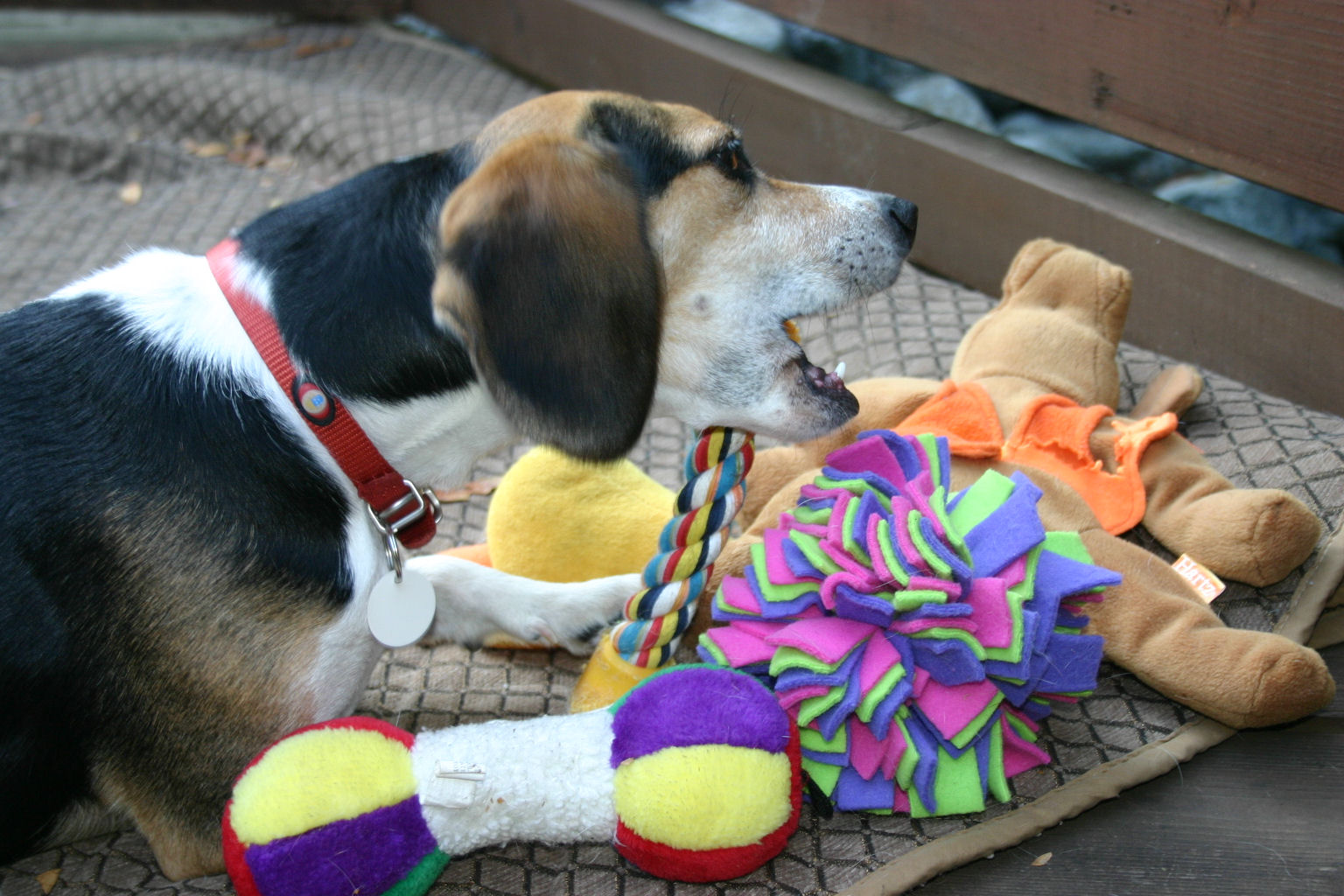 he deserves! His favorite activity now is to empty ALL of the stuffed toys out of our giant toy box and carry them one by one outside on the deck. When he gets enough of them out there, he will then start rearranging them....carrying some of them to the other side of the deck. The end result is that there are 2 piles of toys outside and nobody better disrupt them because he'll know! There could never be enough toys for this boy. He also absolutely loves going to therapy twice a week. He gets to excited there that he whines and wags his tail so hard it's blurry. We are thrilled that on September 17, 2006, he and Katie were adopted...by the same family. As soon as he is released from medical care, he and Katie, who are being fostered together, will be moving to Idaho. This is such a inspirational story...one where a beautiful, sweet beagle was literally about to die from the abuse of his owner...but now who will get to live happily ever after with a new family who will love his every move. Katie & Braveheart (who will be renamed "Sebastian") have a Godfather, Ron Janick and Gail Wilkening is Braveheart's Godmother.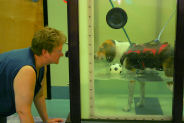 Denise & Susan, CBR's co-founders are Katie's Godmothers! BRAVEHEART THANKS ALL OF HIS SUPPORTERS for caring enough to reach out to help him and his sister, Katie! Because of YOU, he is walking again, and has regained a tremendous amount of muscle tone! He still has some work to do, but he's on the home stretch. We are confident that he will lead a near-normal life now. Dr. Shaw even gave him permission to attend CBR-West's upcoming BARKTOBER 'FEST on 10/29! Just think what an emotional day that will be for him..he will get to go on an outing at a park with other beagles, many of which were rescued too!
---
To report problems with this site, please contact the webmaster.