Miley's Story
See Miley's Sponsors!
Caron Sarver, CBR Volunteer and owner of Beagles-on-the-Web, called Susan O'Brien, VP of CBR-West to tell her of a sad story of a little beagle girl who needed help. You see, "Laura", a compassionate shelter volunteer in a Pennsylvania shelter, reached out to Caron and told her about Miley, hoping for help. Miley has a spinal cord injury from an unknown source, but most likely from being hit by a car. We all know that these types of cases don't have much of a chance in the shelter system. But this sweet girl had spunk. She had drive. And she had the will to live. She was about a year old and if....if only....if only someone could take her and get her the help she needed to be able to walk and run like she deserved to. It only took Susan about a minute and half to say, "YES WE WILL" . She was assigned CBR Case# B30508 and her transport was set in motion. CBR-West has experience with spinal cord injury beagles, such as the infamous Braveheart (now called Sebastian). We have systems in place for these types of dogs...but funding is another story. They are expensive to help but worth every cent and somehow, our wonderful supporters make miracles happen. In Miley's case, she can stand very strongly on her front legs, but her rear legs collapse under her when she tries to take more than a step or two. Since she is so puppy-like, she will try to start running, then when her legs give out, she'll go sliding across the floor. (see photos below) She also has limited control of her bladder and bowels, but our experience with spinal cord injuries tell us this will improve with therapy too.
Susan had to figure a way to get her to Portland, OR, the CBR headquarters. She reached out to CBR-East volunteers, located in PA and NJ and immediately Cheryl K. offered to help......a choreographed ballet between East and West chapters began with a common goal to help a little beagle in trouble. Cheryl jumped into action and first picked up Miley from Laura at the shelter. Then off to the vet for paperwork. She even fostered her for 2 days, during which time calls were flying back and forth arranging flights. A ground transport was simply too long and would be too difficult for Miley. On April 25, 2008 Miss Miley left the wonderful care of CBR-East volunteer Cheryl, and several hours later arrived at United Airlines Cargo at PDX to the open arms of Susan O'Brien and Michelle Dodgson (*B.A.R.C. Director). Miley is the first beagle in history to have been fostered by east coast and west coast chapter volunteers!
The next step was to have our vets examine her. On April 26, xrays were taken and it appears that she does have an injury to the thoracic area of her spinal cord. The extent of the damage cannot be seen in an xray. An MRI is required at a cost of approx. $1,800. Furthermore, veterinary rehabilitation is needed to help her regain her balance and learn to walk properly again.
Miley needs you....CBR needs you. We need to raise at least $2,500 for Miley..can you help?
(* B.A.R.C. stands for "Beagles Across R Country", a CBR program of air-transporting beagles in need)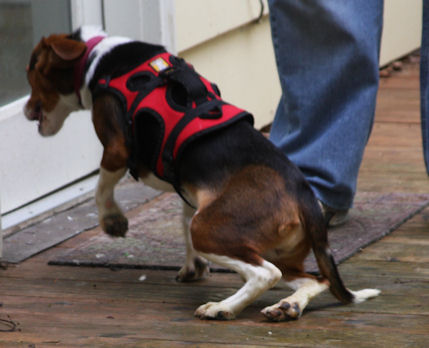 Miley's little legs collapse under her from a spinal cord injury.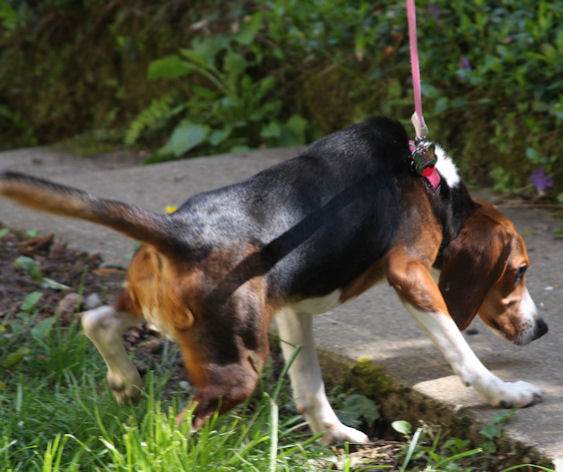 Oops! Down again!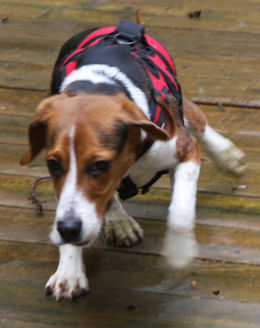 She tries to stand up after falling. It takes her a few times, but she finally succeeds.