Adoption day for Zorro!
We are so thrilled for little Zorro, who has now been renamed "Cooper"!  He found his forever farmily with Angela & Casey C. of Vancouver, WA, along with 3 beautiful kids and a gorgeous kitty too!  Congratulations!!
His story:
Don't let that black mask fool you…this adorable beagle puppy is a sweet as they come.  He was born in a shelter in West Virginia.  There were 10 pups in the litter and their mom, Eva, was a real trooper and did her very best to take care of them, given the conditions.  All but 3 were adopted by the shelter and their time was up, so we pulled them to safety.  (Eva is also up for adoption!).   Zorro lives up to his name and thinks he can conquer the world.  He's a rambunctious, playful, energetic puppy who will need someone who is excited to welcome him into their lives!
This is Eva, Zorro's mom, who is also up for adoption.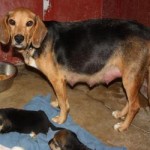 [tabs tab1="Stats" tab2="Behavior" tab3="Health"]
[tab][list style="check"]
Age: 9 weeks as of 11/10/12
Microchipped – (will be done prior to adoption)
From:  West Virginia shelter
Current location:  Oregon
Adoption fee: $350 + $20 microchip registration
[/list][/tab]
[tab]
[list style="check"]
Playful
Active
Needs all the training a puppy needs!
Tail always in motion
Working on crate training
[/list]
[/tab]
[tab]Known health issues:
[list style="check"]
No known health issues
As of 11/10/12, has had 2 of the 4 required puppy vaccinations
Will be microchipped prior to adoption
At 6 months, will need rabies vaccination
At 6 months, will need to be neutered – REQUIRED!
[/list]
[/tab]
[/tabs]
[one_third] [images_mini_gallery width="299″ height="200″] http://www.cascaderescue.org/wp-content/uploads/2012/11/Oliver.jpg[/images_mini_gallery][/one_third]
[one_third][images_mini_gallery width="299″ height="200″] http://www.cascaderescue.org/wp-content/uploads/2012/11/IMGP4779.jpg[/images_mini_gallery] [/one_third]
[one_third_last] [images_mini_gallery width="299″ height="200″]http://www.cascaderescue.org/wp-content/uploads/2012/11/IMGP4784.jpg[/images_mini_gallery] [/one_third_last]