Love at first sight!
Melissa O., of Seattle, WA knew Stormy was "the one" the moment she laid eyes on our web site.  Confirmed by meeting her, she adopted her immediately.  Congratulations to our little Stormy for finding her forever home with Melissa!!
Her Story:
All about Stormy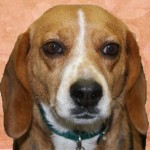 This sweet, calm girl came into a West Virginia shelter as a stray and she found herself on death row there.   We had to help her!  When our volunteers picked her up, a large mammary mass was noticed.  We had an initial assessment done and brought her to Portland, where she was seen by Dr. Hardinge at Wilsonville Veterinary Clinic.   Since 50% of these types of masses are cancerous, surgery is scheduled for October 15.  This sweet, petite girl will undergo a double mammectomy (same as mastectomy in humans), plus a lumpectomy on a smaller mass on a different mammary gland.   We are keeping all paws crossed for this sweet girl and will post updates to her case here.  A chest xray, blood panel and heartworm test was also done (neg).[/two_third_last]
We need your help with Stormy's veterinary bills, which totalled in excess of $1,500.
Update:  Surgery is complete and all tumors are benign!!  Hooray for Stormy!
[tabs tab1="Stats" tab2="Behavior" tab3="Health"]
[tab][list style="check"]
Age: 3-4 (est.)
Spayed (as of 10/15/12)
Microchipped (as of 10/15/12)
Fully vaccinated
Heartworm tested:  Neg
From:  West Virginia shelter
Current location:  Oregon
[/list][/tab]
[tab]
[list style="check"]
Mellow
Playful, but would rather curl up next to you on the couch
Happy, sweet, gentle, quiet
Good with other dogs
[/list]
[/tab]
[tab]Known health issues:
[list style="check"]
Mammary tumors X 4.  Major surgery is scheduled for 10/15/12.
As of 11/2/12, she is fully recovered from her surgery and all masses were benign!  Stormy is now ready for adoption.
[/list]
[/tab]
[/tabs]
[one_third] [images_mini_gallery width="299″ height="200″] http://www.cascaderescue.org/wp-content/uploads/2012/10/stormy-vet2.jpg[/images_mini_gallery][/one_third]
[one_third][images_mini_gallery width="299″ height="200″]http://www.cascaderescue.org/wp-content/uploads/2012/10/stormy-vet1.jpg[/images_mini_gallery] [/one_third]
[one_third_last] [images_mini_gallery width="299″ height="200″]http://www.cascaderescue.org/wp-content/uploads/2012/10/stormy-vet3.jpg[/images_mini_gallery] [/one_third_last]