We are thrilled to announce that November 3, 2013, Cocoa found her forever family with Gretchen & Erich K., of Vancouver, WA…and all the kids, and her new sibling  beagle, Frazzle!  Cocoa is finally well and her pneumonia is all cleared up!!  Congrats Miss Cocoa!!
Her story: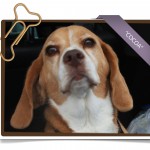 Cocoa is a gorgeous girl whose family dropped her off at a rural shelter in Utah because they didn't have time for her.  This shelter was bursting at the seams and were faced with starting to euthanize dogs due to overcrowding.  The shelter manager saw the beautiful soul in Cocoa and reached out to us for help.  The look of terror in her little face sitting in the shelter compelled us to put the wheels in motion to pull her to safety.   It took a lot of coordinating but now she is safe with us.  We need to find Cocoa a family who will not let her down no matter what.  Someone who, no matter what, will be there for her.  She deserves to be the center of your universe.  When we picked her up at the airport from her flight out of Utah, even the airline staff said what a sweet dog she is.  They could hear her tail thumping against the side of the kennel as it wagged with glee to be safe.  Once we got her outside,  we could see it was true. She is a beautiful, beautiful 15″ beagle who has a lovely disposition.  She is not overly busy and didn't try to bolt, but she's more active than a couch potato.  She offered kisses even though she only knew us for a minute.  Of course having cookies helped!  Cocoa needs to lose just a couple of pounds and regular walking should be all she needs.  This is a gem waiting for that perfect person!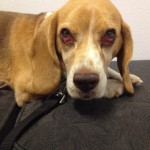 COCOA UPDATE:  SHE IS IN THE HOSPITAL WITH PNEUMONIA!  
We need to fundraise for her veterinary care which is now up to $1,770. as of 10/2/13.   For every sponsorship donation of $20 or more, we will send you a 2014 calendar!   
[tabs tab1="Stats" tab2="Behavior" tab3="Health"]
[tab][list style="check"]
Age: 6
Spayed
Microchipped – to be done soon!
Fully vaccinated
Heartworm tested:  Neg
From:  Utah shelter
Current location:  Oregon
[/list][/tab]
[tab]
[list style="check"]
Gentle female
Playful
Active but not hyper
Tail always in motion
Good with other dogs
Good with kids – only older kids, please.
Cat friendly – unknown
[/list]
[/tab]
[tab]Known health issues:
[list style="check"]
No known health issues
9/28/13 – being treated for kennel cough contracted while in the shelter
[/list]
[/tab]
[/tabs]
[one_third] [images_mini_gallery width="299″ height="200″] http://www.cascaderescue.org/wp-content/uploads/2013/09/cocoa2.jpg[/images_mini_gallery][/one_third]
[one_third][images_mini_gallery width="299″ height="200″] http://www.cascaderescue.org/wp-content/uploads/2013/09/cocoa1.jpg[/images_mini_gallery] [/one_third]
[one_third_last] [images_mini_gallery width="299″ height="200″]http://www.cascaderescue.org/wp-content/uploads/2013/09/cocoa4.jpg[/images_mini_gallery] [/one_third_last]
// ]]>