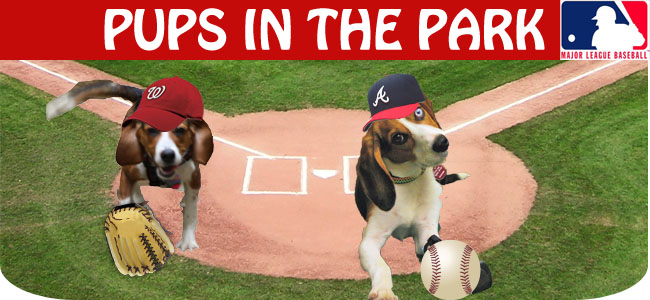 It's Beagles & Baseball!!
Cascade Beagle Rescue Presents…Nationals Pups in the Park
Join Cascade Beagle Rescue at the Nationals Pups in the Park game on June 2, 2012
Some photos from the event:
A HUGE thank you to our sponsors!!!
FREE Post Game Concert by Dierks Bently!
It's major league baseball with the  Washington Nationals vs. Atlanta Braves at Washington.  You and your dog can come out and AROOOOT for your favorite team!  You and your beagle can hang out, grab a hot dog, some cracker jacks and a cold one together!
TICKET PACKAGES:  
SORRY TICKET SALES HAVE ENDED!
Nationals Park Waiver is REQUIRED if you are bringing a pup!  Without this form, you will be denied admission!!!
Details
Package price includes MLB/Nationals and payment processing fees!
A portion of the ticket package price will be donated to the Washington Humane Society and Cascade Beagle Rescue to support animal welfare.
PLEASE PURCHASE TICKETS EARLY so we can be better prepared to accomodate all guests!
Ticket purchase deadline is:  April 1, 2012
A CBR representative will distribute tickets beginning at 3:15 pm and ending at 3:45 pm on game day, June 2, 2012, just in front of "Will Call"…so arrive EARLY!
Directions & Transportation
Here is a link to the Nationals Park.  Please note that dogs are NOT allowed on metro!
Location:
Nationals Park is located in Southeast Washington along the Anacostia River bounded by South Capitol Street to the west, N Street to the north, First Street to the east and Potomac Avenue to the south.
Park address is:
Nationals Park
1500 South Capitol Street, SE
Washington, DC 20003-1507
FINE PRINT
1.  Tickets are non-refundable!
2.  All those with tickets purchased for Pups in the Park must enter the LEFT FIELD GATE – located off South Capitol Street (open 90 minutes prior to the game at 5:30pm)
3.  Upon entering the gate you must drop off a signed waiver form for your dog's up to date  vaccinations. Please note that no dogs will be admitted without a signed waiver!
4.  The water and relief area is located on the landing of section 201
5.  No dogs will be allowed at concession areas, you may leave your dog in the seats with your guest or with the "FETCH! Pet Sitters" located on the landing area
6.  All dogs must be on a leash
7.  Please consider your dog's temperament before bringing them to the game
8.   Dogs should be old enough and socialized enough to interact well with people and other dogs
9.  Female dogs cannot be in heat!
10.  Please be aware that Nationals homeruns and victories are celebrated with a fireworks display, so please plan accordingly